High school students selected as Scott Scholars will receive program benefits that will help them focus on their studies.
---
Tuition, Fees, and Books
Your scholarship covers the cost of tuition, fees, and books and materials associated with your studies. Scott Scholars are also provided with a personal computer for use during the duration of the scholarship.
Visit the UNO Bookstore
Housing and Food
Scott Scholars live and study in the Scott Residence Hall.
4 private carpeted bedrooms
1 full bathroom
Furnished living room
Microwave, small refrigerator, and unlimited meal plan included
Cable; both wired and wireless Internet
Fitness room
Game room
Movie theater
Study lounge
---
Academic and Career Support
Currently, Scott Scholars are paired with an alum working as a professional in their field of study. Students and mentors are connected and our office helps to facilitate interaction (hockey game, basketball game, meet-ups in Maverick Landing, etc.).
Additionally, mentors also assist with the Career Development Institute by serving as industry professionals interviewers for our Mock Interview sessions.
Learn more about the Academic and Career Development Center Resources
---
Leadership Development
Leadership should inform all aspects of life. We teach our Scholars to grow important life skills, like introspection, cultural sensitivity, moral acuity, people skills, and decision-making. We want you to inspire others through your actions and words. We want you to be confident when you enter into your professional career.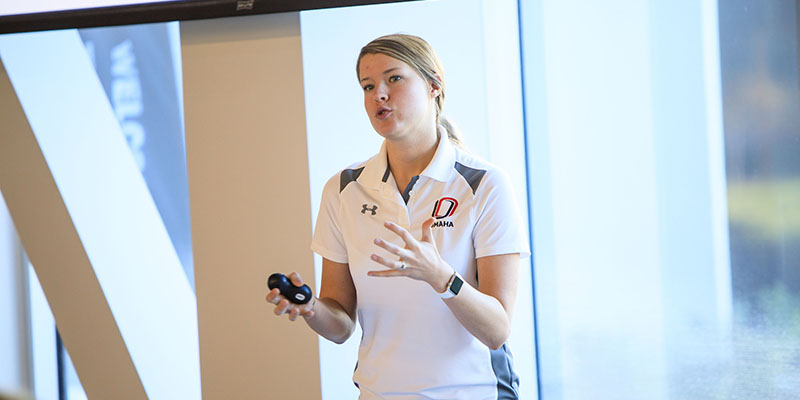 Community Impact Opportunities
UNO is home to the Barbara Weitz Community Engagement Center (CEC). Our students have the unique opportunity to work with dozens of community partners located within the CEC on a variety of volunteer projects. This offers real-world experience, with results that students can see, and be proud that they have taken a part in the improvement of their local community.
Learn more about the Barbara Weitz Community Engagement Center