May Strategic Planning Forum Highlights UNO's Work in the Past, and Where We Will Go Next
published: 2019/05/07
contact: University Communications
UNO's May Strategic Planning Forum included a look back to the past, while also acknowledging the work never ends to continue to be the premier metropolitan university in the country.
Forum participants worked together to identify ways to achieve UNO's campus-wide goal of supporting students as they achieve excellence through the pursuit of higher education - the Completion Imperative.
The UNO Completion Imperative builds on recent successes that has seen rising retention rates and six-year graduation rates and has the ultimate goal of making sure each and every student enrolled at UNO earns their degree.
The day began with outgoing student regent Renata Valquier Chavez noting what redefining success looks like from a student perspective before Associate Vice Chancellor Omar Correa spoke about the culture and impact UNO is having throughout the state.
Hank Robinson of the Office of Institutional Effectiveness concluded the session by examining UNO's growing four- and five-year graduation rate, correlation between ACT scores and literacy and math scores as well as financial stresses, and the forum-goers discussed reasons for the increases, including more transfer and dual enrollment students. The challenge was given of how we can continue to keep the students who are at risk but just need a little more help academically.
Sandra Reading, President of the Aksarben Foundation, then talked about workforce development and the acknowledgement from businesses and the board that Nebraska has a wage-gap issue and took questions and comments from the forum guests on ways for business and UNO to address the challenges facing the state.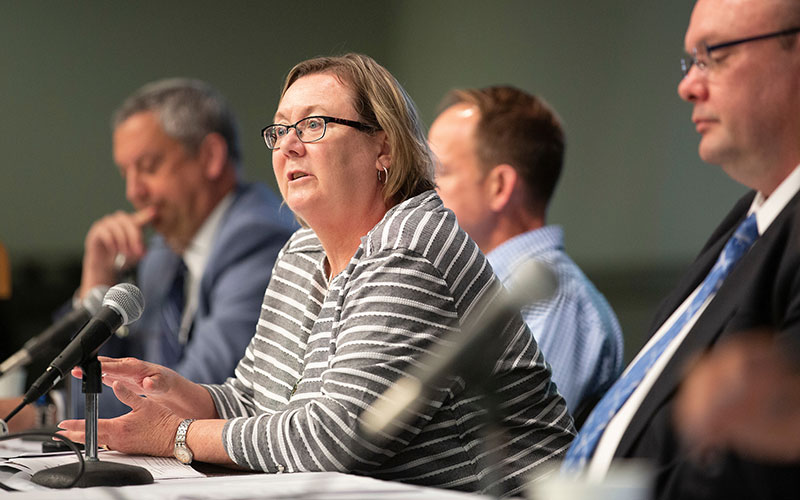 A group panel provided an update on the strategic planning sub-committee work before the audience heard the terrific story of recent grad Serena Moore, who recently graduated thanks to help from her Project Achieve Advisor Cindy Siadek. They created Caring Resources and Nurturing Environment or CRANE, an organization that would provide resources and a network of support for students experiencing a similar situation.
A group activity then followed discussing ways that UNO can continue to increase retention related to the Completion Imperative goal.
Sara Woods, Cecil Hicks and Makayla McMorris briefed the groups on UNO's six values before Melissa Burke concluded the day by singing a new UNO Values Song lyrics to the tune of the UNO Fight Song. UNO also said goodbye to Senior Vice Chancellor BJ Reed who will retire at the end of the month, marking this as the final Strategic Planning Forum for him as senior vice chancellor.
A full story with more on Strategic Planning, the Completion Imperative and other initiatives at UNO will be shared in the coming weeks.
Contact Us
If you have a story idea, news tip, or other question, please email the UNO News team at unonews@unomaha.edu.