Strategic Planning Forum: Next Steps
Help maintain our Maverick Momentum and learn how you can get involved with three strategic UNO initiatives: The Completion Imperative; The Big Ideas; and The Strategic Investment in Social Justice, Inequality, Race, and Class.
published: 2021/05/13
contact: Keristeina Dodge - Office of Academic Affairs
This year's May Strategic Planning Forum, Maintaining Maverick Momentum by Supporting Ongoing Initiatives, was a culmination and celebration of the progress the campus has made in the last few years on key campus-wide efforts to deliver on the goals of the UNO Strategic Plan.
The insights, feedback, and support of the UNO campus community and our partners from the greater Omaha community have already helped to strengthen the campus' commitment to three strategic initiatives: the Completion Imperative, the UNO Big Ideas, and the Strategic Investment in Social Justice, Inequality, Race, and Class.
While the focus of this most recent Forum was to have individuals to learn more, ask questions, and find opportunities for involvement in each of these initiatives, the work is just getting started.
The UNO campus needs continued support and involvement in the strategic planning process now and in the months and years to come. And there is no better way to start than reaching out.
A list of contacts for each initiative discussed at the Forum can be found on the Strategic Planning website:
Whether it's sharing an idea, joining a committee, volunteering, or some other effort, the goal is to have every single member of our community to feel ownership of the university's future through these Strategic Priorities.
You can find out more about the Strategic Planning process by emailing strategic.planning@unomaha.edu or reviewing the information below.
---
The Strategic Planning Model
Innovative ideas go through the process of ideation, assessment, and implementation. The May Forum, and all the forums prior, are opportunities to assess individual proposals in support of the larger Strategic Investment.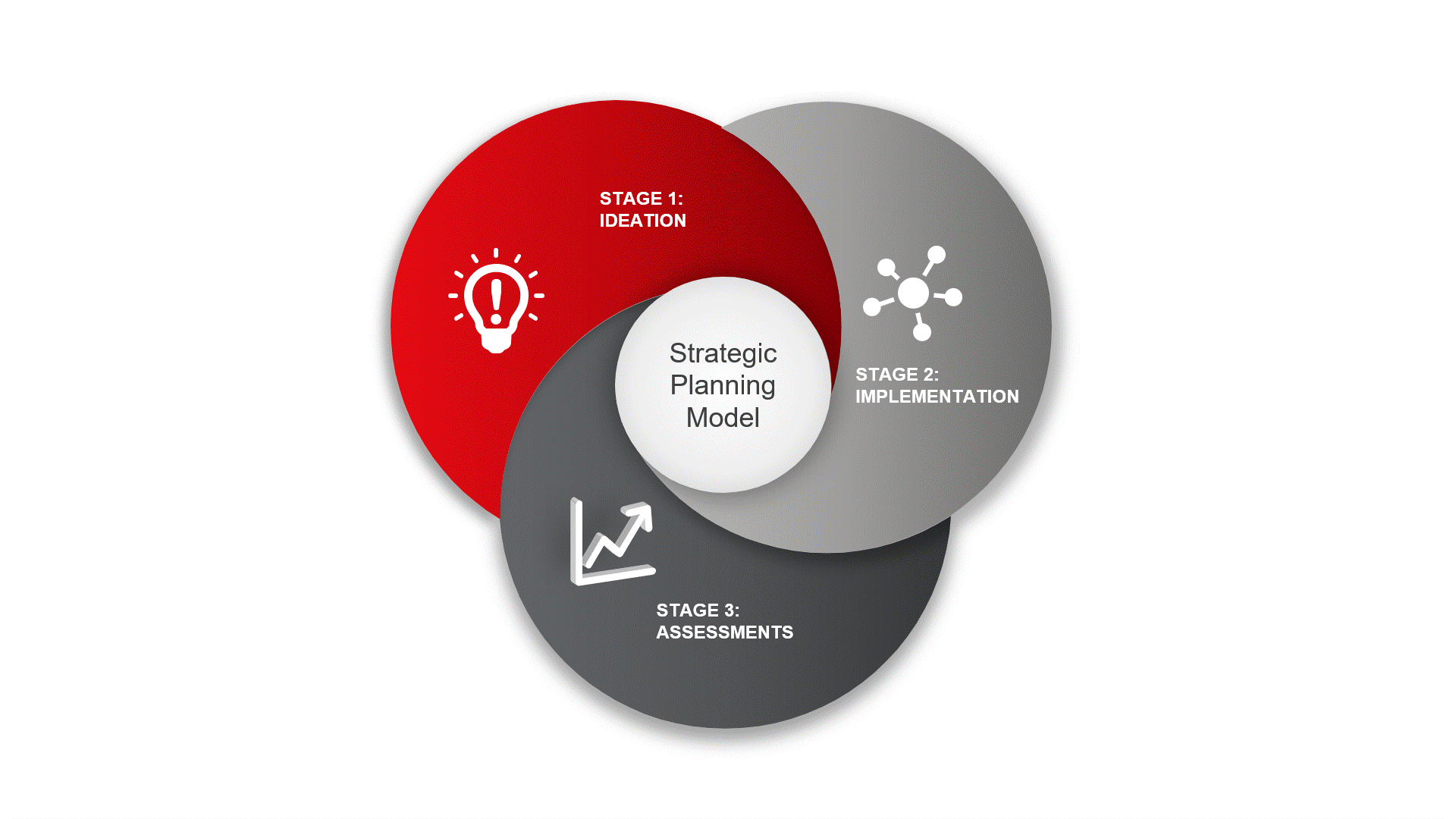 UNO's Strategic Goals
At UNO, our Strategic Plan is based around four goals: Student Centeredness, Academic Excellence, Community Engagement, and Institutional Quality.


Goal 1: Student Centeredness
Strategies
1.1 - Recruit, develop, retain, and graduate a diverse student body reflecting a dynamic metropolitan community
1.2 - Prepare students for academic success, careers, and professional responsibilities in an increasingly complex world
1.3 - Prepare students for global citizenship
1.4 - Develop resources that reduce financial barriers to increase student access and success and minimize debt
1.5 - Create a supportive, inclusive culture that enhances students' experiences and success


Goal 2: Academic Excellence
2.1 - Provide a strong core curriculum ensuring every UNO graduate possesses foundational academic skills, experiences the breadth of a liberal education, and develops an appreciation for the diversity that exists in the nation and the world
2.2 - Provide high quality academic programs that are responsive to student and societal needs, recognized nationally and internationally for excellence, and which effectively utilize traditional and distance-education delivery modalities
2.3 - Support and enhance faculty, staff, and student research and creative activity
2.4 - Identify, develop, and support interdisciplinary/transdisciplinary academic priorities
2.5 - Develop and enhance applied and experiential student learning opportunities
2.6 - Expand opportunities designed to support experiential and continuous learning for professional advancement, career change, and personal growth


Goals 3: Community Engagement
3.1 - Build new and strengthen existing connections with a broad range of community partners
3.2 - Prepare students to be engaged citizens and community leaders in a diverse and evolving society
3.3 - Promote, recognize, and incentivize engaged scholarship
3.4 - Increase the involvement of alumni in advancing UNO priorities
3.5 - Fortify rewards and resources supporting engaged teaching and learning
3.6 - Formalize a system to measure and communicate the value and impact of UNO's engagement in the community


Goal 4: Institutional Quality
4.1 - Recruit, retain, and reward outstanding faculty and staff
4.2 - Provide a safe, sustainabile, and welcoming environment
4.3 - Create a vibrant and inclusive environment and culture for students, faculty, and staff
4.4 - Prudently manage the financial resources entrusted to us
4.5 Increase public awareness of UNO's standing as a premier Metropolitan University and a Carnegie Doctoral Research and Engaged University, and regarding what it means to be a Maverick
4.6 - Maintain and expand facilities to meet the growing needs of the campus
4.7 - Utilize technology that supports learning, effectiveness, research, and innovation
4.8 - Identify, support, and sustain mutually beneficial collaborations within the University of Nebraska System
4.9 - Enhance institutional quality, integrity, and risk management by assuring appropriate policies, procedures, assessments, systems, and standards are in place and communicated broadly
Review Past Forums
To review The Big Ideas, click here.
To review The Completion Imperative, click here.
To watch March 2021's Strategic Planning Forum, watch it here.
To watch December 2020's Strategic Planning Forum, watch it here.
About the University of Nebraska at Omaha
Located in one of America's best cities to live, work and learn, the University of Nebraska at Omaha (UNO) is Nebraska's premier metropolitan university. With more than 15,000 students enrolled in 200-plus programs of study, UNO is recognized nationally for its online education, graduate education, military friendliness and community engagement efforts. Founded in 1908, UNO has served learners of all backgrounds for more than 100 years and is dedicated to another century of excellence both in the classroom and in the community.
Follow UNO on Facebook, Twitter, Instagram, LinkedIn, and YouTube. 
Contact Us
If you have a story idea, news tip, or other question, please email the UNO News team at unonews@unomaha.edu.