What is a metropolitan university?

The "Metropolitan University," defined in its simplest terms, is an institution that accepts all of higher education's traditional values in teaching, research, and service, but takes upon itself the additional responsibility of providing engaged leadership within the metropolitan region by using its human and financial resources as partners to improve the region's quality of life.

Adapted from Paige E. Mulhollan's "Aligning Missions with Public Expectations: The Case of the Metropolitan Universities," Metropolitan Universities, 1995.
Criteria
Coalition of Urban and Metropolitan Universities (CUMU)
Coalition of Urban Serving Universities (CUSU)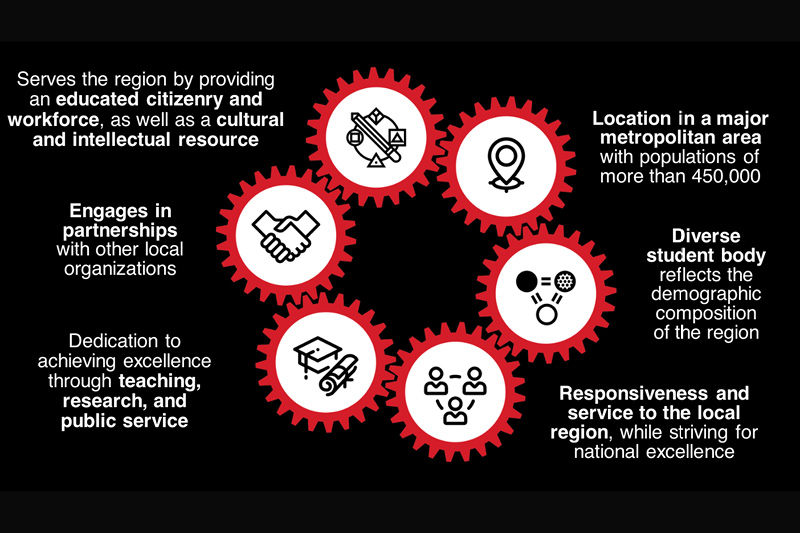 Location

Location in a major metropolitan area with populations of more than 450,000.

Our City (Omaha):

Has a population of more than 1.2 million people within a 50-mile radius.
Contributes the majority of current UNO students and is home to 80% of our alums.

---

Dedication to Excellence

Dedication to achieving excellence through teaching, research, and public service.

UNO:

Offers more than 700 classes per year with a community-engagement component including service learning, practicums, internships, and student teaching, among others.
Teaches more than 200 service-learning courses offered through six academic colleges.
Participates in courses with community engagement components annually. Nearly 5,000 students.

---

Diversity

Diverse student body reflects the demographic composition of the region.

UNO:

Is home to nearly 50% of all students of color in the University of Nebraska system. Almost one-third of UNO students are ethnically and racially diverse.
Attracts close to 2,000 students involved in International Programs.
Recruits students from the region, and nearly half of them are 1st generation.

---

Responsiveness

Responsiveness and service to the local region while striving for national excellence.

UNO:

---

Resource

Serves the region by providing an educated citizenry and workforce, as well as a cultural and intellectual resource.

UNO:

Hosts many cultural, educational and community events including but not limited to Black History Month, Goldstein Lecture on Human Rights, Research and Creative Activity Fair.
Collaborates with local businesses on internships and providing the local and state economy with a $600 million impact through student, faculty, staff and alumni activity.

---

Engagement

Engages in partnerships with other local organizations.

UNO:

Home to the Barbara Weitz Community Engagement Center (CEC), the first facility of its kind in the United States, partners UNO resources with community needs, home to more than 30 nonprofit, government, and UNO partner organizations.
Provides signature service days providing students with many campuswide opportunities to volunteer and give back to the local community.
Contributes a value of student, faculty, and staff volunteerism totaling more than $3 million annually.
---

Nebraska's Metropolitan University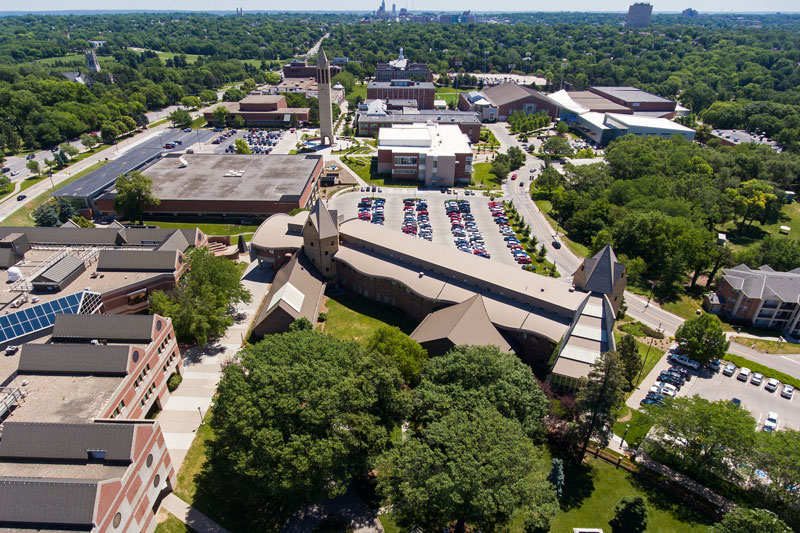 UNO is dedicated to the city and state in our name. As the University of Nebraska's metropolitan university campus, no fences or barriers separate students from the opportunities offered by the greater Omaha area.

We address real issues, providing relevant learning opportunities which uniquely prepare our graduates as professionals and active members of their community. As a good neighbor, for more than a century, we actively engage in the teaching, research, service, culture, and economy of the region and strengthen the quality of life in Omaha.

Success at UNO means success for Omaha, and success for Omaha means success at UNO.

All of this is what a "Metropolitan University" identity means to the Mavericks of UNO.


History

The history of UNO has been a powerful guiding force. Our past fuels our pride and shapes the comprehensive metropolitan university we've become. We were built on a commitment to provide a rigorous, relevant and affordable education that meets the diverse needs of traditional and nontraditional students. UNO has been and always will be driven by the extraordinary connection to and partnership with the city of Omaha.

Since its inception in 1908, the University of Nebraska Omaha has been firmly anchored in the community, forging partnerships with business, education, government, arts and civic organizations. UNO has long set the pace for accessible higher education in Nebraska and continues to offer an academically rigorous experience to a diverse student body.

Read more about our history.


Our City

Omaha is more than simply our location; the city truly functions as part of the UNO campus. With a population of more than 1.2 million within a 50-mile radius, Omaha is integral to what UNO is as a university and offers unlimited opportunities for collaboration. UNO and Omaha enjoy a dynamic, fruitful, long-term partnership with a shared goal: changing the lives of students and residents while enriching the global community.

Students find internships, careers and other opportunities in the heart of Nebraska's largest city. Omaha is home to four Fortune 500 companies including Berkshire Hathaway, Mutual of Omaha, Peter Kiewit, and Union Pacific.