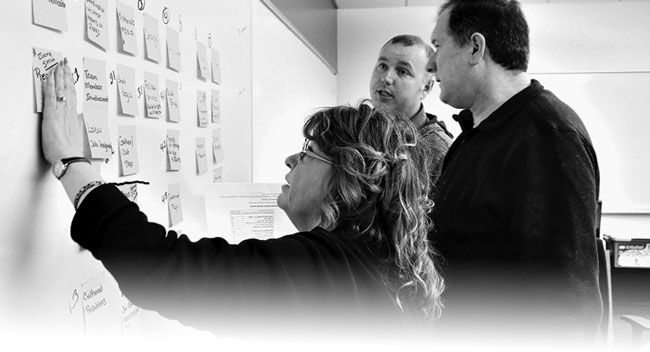 Master the competencies needed to determine project or system requirements, control scope and manage project requirements throughout the development cycle. All workshops are BABOK-aligned (Business Analysis Body of Knowledge). All BA courses have been updated to the current BABOK guide. Required courses may be substituted with instructor's permission.
Required Workshops
Core Principles for Business Analysis (2 days)
You will learn business analysis and its principles, practices, roles and responsibilities. Whether you are a new business analyst or experienced, you will benefit from creating an actual feasibility study and examining a current business case. Exercises will keep you engaged and encourage you to share personal experiences.
Requirements Elicitation Methods and Models (3 days)
If the requirements are not correct, your project is doomed. In this class, you will learn various methods of gathering requirements, such as prototyping and reverse engineering. You will practice correctly writing requirements. You will work with various ways to visualize the requirements by modeling. If your requirements are communicated accurately, everyone prospers.
Successful Project Management (2 days)
Learn time tested, PMBOK® aligned techniques for planning and implementing projects to produce desired results on time and within budget. Use project management tools to set measureable objectives, estimate project time and costs, determine scope, manage resource requirements and control results. Includes an interactive exercise in which students manage a project from planning through measurement of results.
Process Mapping for Business Improvement (1 day)
Learn the sequence and symbols commonly used to plan processes. You will proceed from mapping existing, organized processes toward planning the future state of processes. In teams, you will actually map several as-is processes and then proceed to mapping at least one future process.
Running Productive Meetings (1/2 day)
There are good meetings and bad meetings. Bad meetings are wasteful and lower morals, Good meetings leave your team energized and excited. You will learn how to organize and run effective meetings that increase productivity through improved collaboration, communication and consensus.
Prioritize or Agonize (1/2 day)
Are you feeling overwhelmed by a "to-do" list that is pages long and growing? Don't miss this opportunity to learn the essential skills of time management that will help you organize and complete your daily tasks. You will take away workable ideas on how to better manage your responsibilities.