Advanced Project Management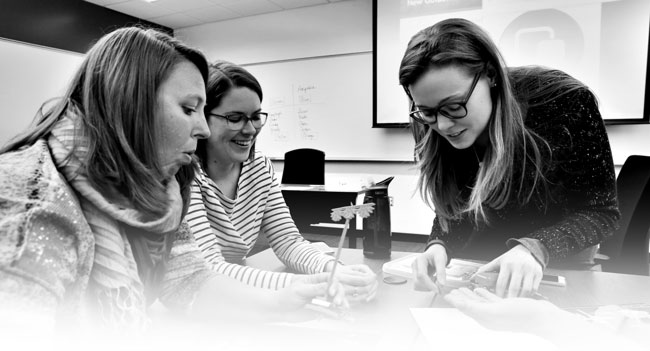 Building upon NBDC's Project Management Certificate, this program provides opportunities to refresh skills and gain knowledge of the latest developments in the field. PMPs—complete all nine days of required courses to earn 63 PDUs.
Required Courses
Leading Change Without Power (1 day)
How can you create change in your organization when you don't have power? You study and understand the social and organizational forces working for an against you.  In this class you will learn simple models for change and strategies that can overcome resistance. Discover how you can be an effective agent for change.
Core Principles for Business Analysis (2 days)
Learn business analysis and its principles, practices, roles and responsibilities. Whether you are a new business analyst or experienced, you will benefit from creating an actual feasibility study and examining a current business case. Exercises will keep you engaged and encourage you to share personal experiences.
New Tools for your PM Toolbox (1 day)
Are you a project manager who would like new techniques for working with teams?  Good project managers are always on the lookout for tools to more effectively manage their projects. Through hands-on learning exercises, you will be exposed to10 collaboration and communication techniques effective project managers use to enhance project success in a wide variety of situations.
Communicating with Project Stakeholders (1 day)
Understand the importance of stakeholder management for project success as you step through the processes—identify, assess, and prioritize—as well as the ethical issues involved. You will complete the class with a plan on how to communicate information and get the kind of feedback you need to be effective in delivering a project.
Advanced Leadership Bootcamp (2 days)
Develop the skills of an advanced leader who fosters resilience and emotionally intelligent behaviors.
Agile Principles and Practices (1 day)
Get an overview of agile models Scrum, Kanban and Lean. Understand the problems associated with adoption of any new practice and receive practical tips on applying one or more agile models at your company
Communicating Projects Visually (1 day)
Almost every study reveals that communication issues turn out to be project managers' number one problem and consume 90% of their time. Beginning project managers issue status reports, good project managers create a short plan. Great project managers do both as well as communicate to all stakeholders.
Facilitators
Pam Soderholm, MS, PMP
Beth Giesbrecht, BS, PMP
Ralph Lassiter, CQM, CPT, SPHR
Pamela Sumner, MS
Michael Perdunn, MA, PMP
Registration
$2190 (pays for all required workshops for each participant). 
PMP Credentials
All project management workshops can be used to earn the Project Management Professional (PMP) credential and the Certified Associate in Project Management (CAPM) credential awarded by the Project Management Institute. Workshops fill PDU (Professional Development Units) requirements to maintain PMP certification. One contact hour equals one PDU.
Continuing Education Units (CEUs)
Those who complete the certificate program can receive 5.4 CEUs.
Company Certificate Programs
We will customize and deliver this certificate program for a team or companywide.
For more information
402.554.4095 or email Kim Harter.