Public Service Stories | Health and Human Services
Throughout his public service career Harris has been a practitioner of community capacity building and has served in leadership positions in several local non-profit boards engaged in improving quality of life.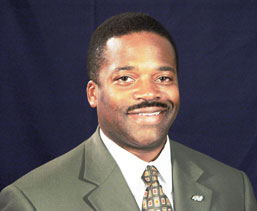 Dewey Harris, Assistant County Manager of Catawba County North Carolina, has served in local and state government for 25 years. In his current role, he provides policy implementation and administrative oversight to approximately 700 employees. Prior to coming to Catawba County, Harris served the City of Wilmington, North Carolina, in several positions including Interim Assistant City Manager, Director of the Community Services Department which focused on neighborhood capacity building, and Director of the Administrative Services Department; City Administrator of Pacific, Washington, where he directed municipal operations for a full service city; Assistant Director of the Accounting and Administrative Services Division for the State of Washington, Office of Financial Management, where he had oversight of accounting services for over 150 state agencies; and Senior Budget Analyst for the State of Oregon, Administrative Services Department, where he assisted in preparing and presenting the Governor's Recommended Budget to the state legislature.
Harris received his Bachelors degree in business from Rutgers University and his MBA in management from Sul Ross State University. Postgraduate studies include the Senior Executive Institute, Weldon Cooper Center for Public Service, University of Virginia, and the Public Executive Leadership Academy, University of North Carolina. Harris currently serves on the North Carolina City and County Management Association Board of Directors, and is credentialed through the International City/County Management Association.