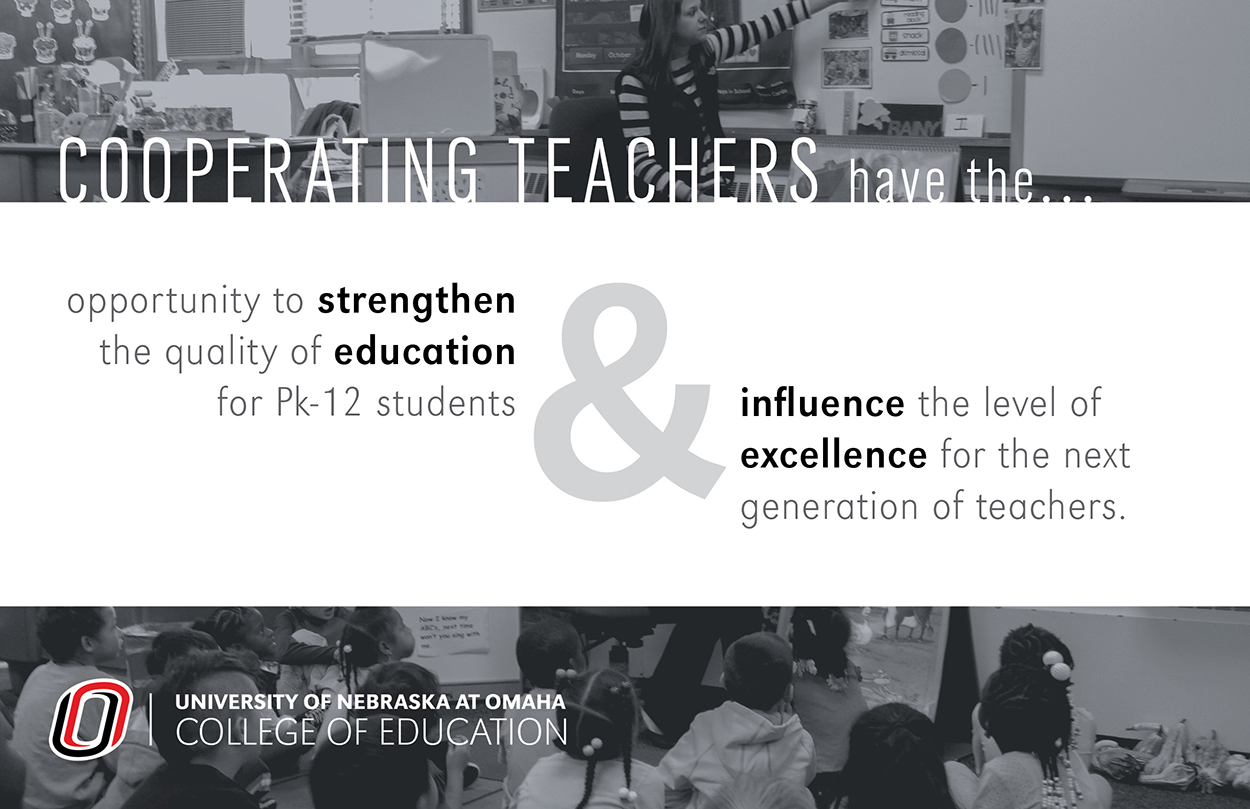 This 16-week, all-day experience immerses teacher candidates in the K-12 environment. Working closely with a cooperating teacher and university supervisor, the teacher candidates implement the knowledge, skills, and dispositions they have acquired in their preparation program.
A Collaborative Approach to Clinical Practice
UNO encourages a collaborative approach to clinical practice. The model utilizes instructional coaching and co-teaching during clinical practice. The cooperating teacher and the teacher candidate collaborate to meet the needs of students in the classroom. The two share responsibility for planning, instruction, and assessment. This allows for increased collaboration and reflection on teaching and learning. Coaching is strategically embedded throughout the experience by the university supervisor with support from the cooperating teacher.
Co-teaching early in the semester, the teacher candidate might serve as an assistant to the cooperating teacher or present portions of lessons. The teacher candidate might also work with individuals or small groups of students who need special or additional help. For certain activities, the class might be divided in half to reduce the teacher-pupil ratio.
As the semester progresses the cooperating teacher will gradually give the teacher candidate more and more of the planning and teaching responsibilities and begin to perform some of the functions the teacher candidate did earlier in the semester. Near the end of the semester, the teacher candidate will be primarily responsible for leading teaching to include solo teaching, much as the cooperating teacher was doing at the beginning of the semester. With co-teaching the amount of time the teacher candidate is left totally alone is reduced so those cooperating teachers can take advantage of having an additional trained adult support instruction.
Candidates are formally observed, coached, and provided written feedback a minimum of five times by the university supervisor. Seminars and journals/video analysis bridge the gap between visits increasing communication, reflection, and progress checks throughout the semester.
Candidates will demonstrate knowledge of assessment strategies and candidate impact on K-12 student learning in a strategies project presentation. A formal three-way evaluation with a university supervisor and the cooperating teacher is completed at midterm and the conclusion of the experience.
During these evaluation conferences, candidates receive formal written feedback aligned to a comprehensive set of state and national professional competencies.
Clinical Practice Frequently Asked Questions
Associated Courses
TED 4600 | Clinical Practice for elementary and secondary candidates
TED 4640 | Clinical Practice for K-12 candidates
TED 4650 | Clinical Practice dual endorsement with special education
SPED 4700 Clinical Practice for dual endorsement special education candidates
SPED 4720 | Clinical Practice for special education candidates
TED 4630 | Inservice Clinical Practice*
SPED 4730

| Inservice Clinical Practice for special educati

on candidates*
*Requirements have been modified for those teaching in their own classroom. Please check with the Office of Field Experiences for more information.