Under the Hood of a UNO Pitching Lab Evaluation
The UNO Pitching Lab provides the most accurate and sophisticated analysis of pitching mechanics, rivaling the best in the world.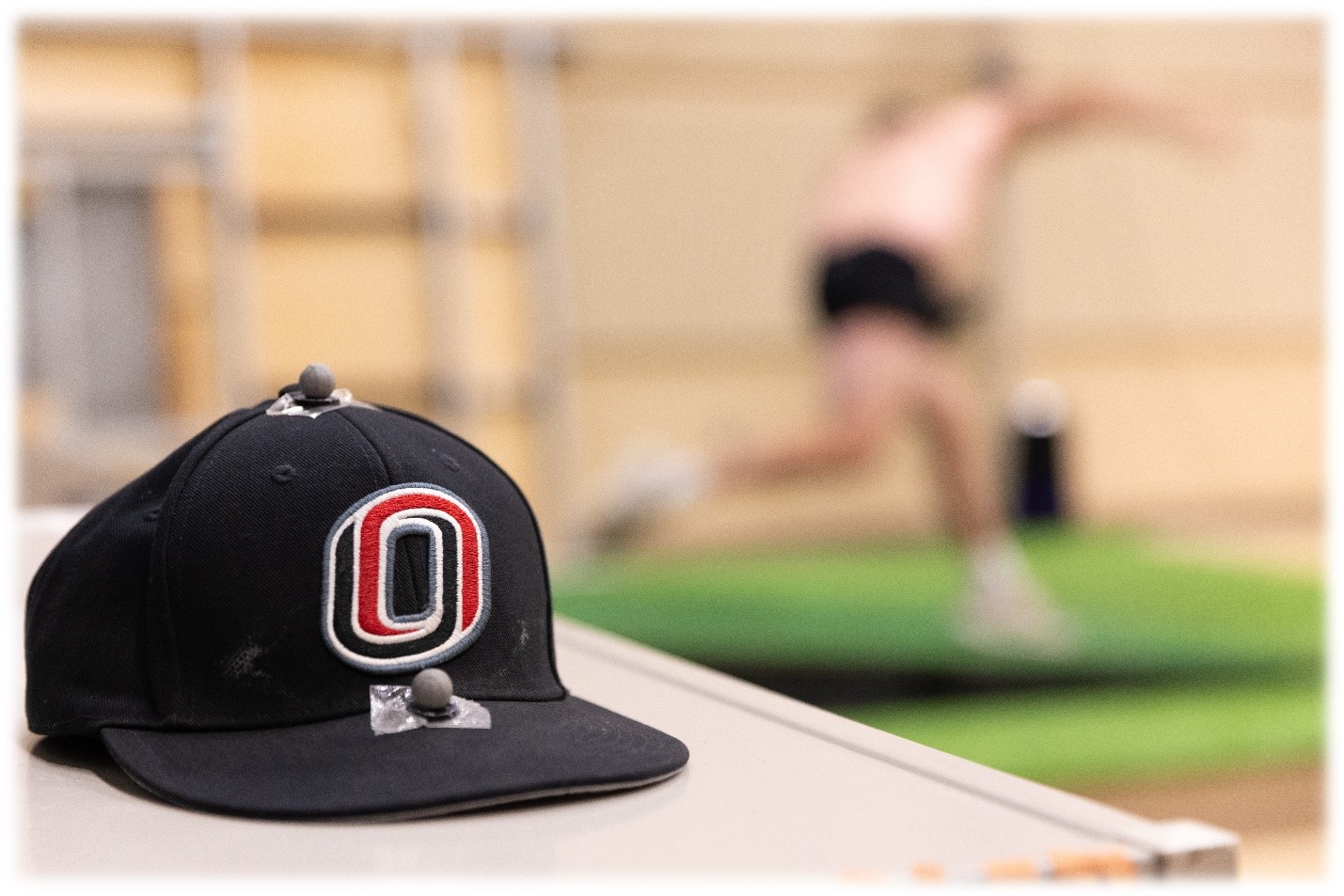 It's hard to ignore it, technology has gone from being "on the horizon" to being a staple in baseball across all levels. While some may have a harder time adjusting to today's game than others, it's almost impossible not to marvel at how much data can advance any athlete's game. While numbers never lie, data in the baseball environment should be used to help guide coaching decisions and not the be-all-end-all. At the UNO Pitching Lab, we use a multi-faceted approach to analyzing one's mechanics. The story behind a pitcher's ability to throw hard or pain-free cannot just be told from one viewpoint, but rather from multiple perspectives to create an all-encompassing understanding of what is really happening.
At the UNO Pitching Lab, we provide the most accurate and sophisticated analysis of pitching mechanics rivaling the best in the world. This stems from our top-notch pitching evaluation where we pair our clinical analysis with our gold-standard biomechanics evaluation. From start to finish, our evaluation takes athletes through the following:
Flexibility, mobility, and strength testing
Movement screens
Diagnostic Ultrasound Imaging
Biomechanics evaluation
Movement and mechanics consultation
One question I often find myself asking pitchers is "do you want to know the answers or do you want to keep second-guessing?". Our pitching evaluation is the perfect place to start in your player development journey, and here's why:
Flexibility, Mobility, and Strength Testing
The first stop within our pitching evaluation is the clinical analysis conducted by our team of certified athletic trainers. Our trainers have tremendous backgrounds working with youth to professional baseball athletes. Here, the goal is to understand the foundation behind why you move. Simply put, this stage is like looking at a car with its hood up in the shop, where we can examine the oil life, what condition the engine's in, and more. Pitching, especially at a high level, requires athletes to be able to achieve high ranges of motion and rotational velocities. Athletes that are tight or weak struggle to not only throw faster but to keep a healthy track record. Our assessment examines the following:
Ankle mobility
Hamstring flexibility
Hip flexibility
Thoracic spine flexibility
Shoulder flexibility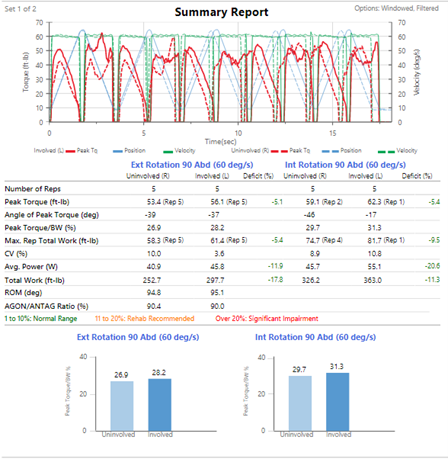 A common theme you might notice throughout our evaluations is the use of state-of-the-art equipment. Our technology is first displayed during our strength assessments, to which you will use BIMS Digital Dynamometers for grip and pinch strength testing and a Biodex dynamometer for shoulder strength. The results from these devices are phenomenal, allowing us to view and interpret how much force you create and how quickly you can create it!
Movement Screens
Similar to our flexibility, mobility, and strength testing, our movement screens help us understand how your body moves through a series of simple tasks. This first starts with a basic qualitative analysis of your posture at rest. We then examine what's called scapular dyskinesis, or in other words, the orientation of your shoulder blades and how they move. Due to the throwing motion being one of the most violent movements we can make as humans, we often see the body adjust its anatomy to accommodate our mechanics and ease the loading on our joints. One area we see anatomical adjustments is within the shoulder blades. Our scapular dyskinesis testing, therefore, examines how well each shoulder blade moves in conjunction with the other, but also the path at which each moves in as well. This allows our athletic training staff to grade how well your shoulder blades move in unison with one another.
Diagnostic Ultrasound Imaging
Recent advances in medical research have suggested diagnostic ultrasound examination of the ulnar-collateral ligament (UCL), or the famous Tommy John ligament, for a better understanding of injury risk. As a lab grounded in the leading research trends, we use diagnostic ultrasound imaging to examine the gap between the bones that make up your elbow and the length of your UCL. This examination rounds out our clinical assessment, painting the picture of how each athlete moves within their pitching motion.
Biomechanics Evaluation
If the clinical analysis was looking under the hood of a car in the shop, our biomechanics evaluation is watching that same car hit 80 mph on the interstate. Use of the biomechanics evaluation takes the guesswork out of your mechanics, leaving us with concrete evidence explaining exactly what's going on in your pitching delivery. We use twenty research-grade Qualisys motion capture and video cameras to determine exactly what your body is doing down to the millimeter, every millisecond. Our motion capture cameras can even collect up to 355 frames per second! Three research-grade Bertec force plates are also situated underneath the pitching mound, allowing further interpretation of how athletes use force to push off the rubber and land at stride foot contact. These force plates are perfect in not only allowing us to see how much force an athlete exerts into the ground but also the direction they direct that force as well! When coupling motion capture and force plate data, our biomechanists are then able to model our movement through a series of joint angles and angular velocities!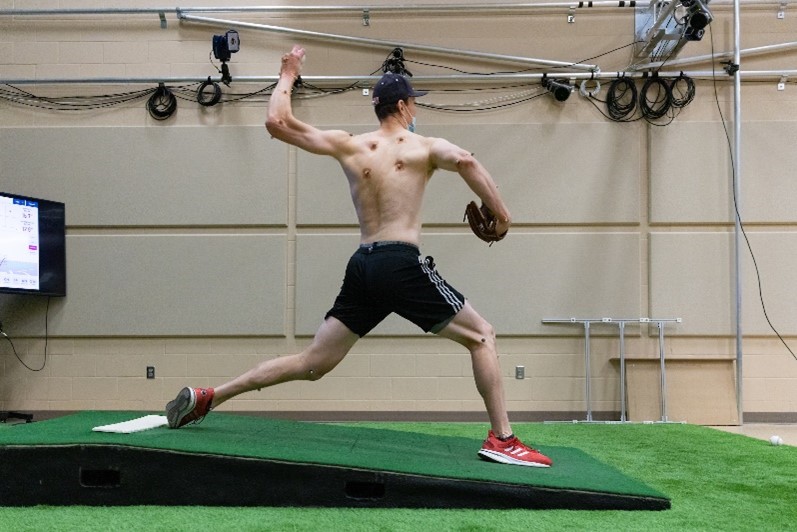 Movement and Mechanics Consultation
Here at the UNO Pitching Lab, we firmly believe that data does no good if you don't know what to do with it. That's why we offer a free post-evaluation consultation meeting with our lead pitching lab researcher. The goal of each consultation meeting is simple: create a greater sense of ownership an athlete/parent/coach has over the data and make all aware of the game plan going forward. Almost every athlete comes to us with a goal in mind whether it's "how can I throw harder" or "how can I stop this injury from happening". Our response provides the answer clearly and concisely, with every recommendation backed by data. The end result of our pitching evaluation comes in the form of two reports, one detailing findings from the clinical analysis and the other detailing the biomechanics evaluation.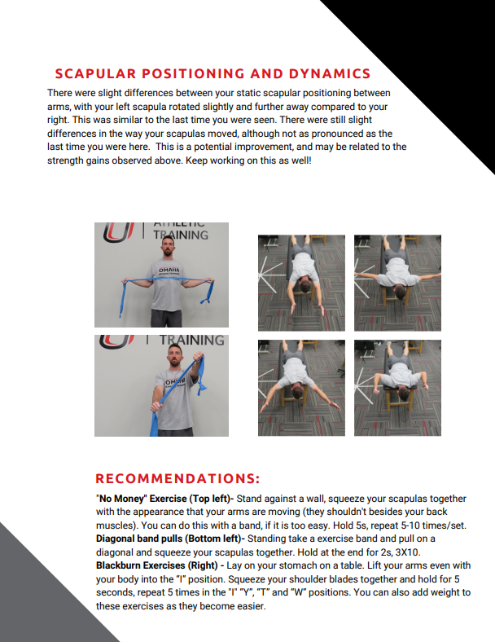 The clinical report starts with a Key Findings section at the top. This area contains the most important comments our athletic trainers want to bring to your attention, whether good or bad! These comments can range anywhere from noting significant improvements in shoulder strength from before or stressing a need to improve hamstring flexibility. From there, athletes will see the data-driven results from each test in separate sections for each part of the body. Each section is then capped out with a recommendations area highlighting how to improve recommendations made by the athletic trainers. Pictures and descriptions of each exercise are also provided for easy comprehension!
The biomechanics report consists of a series of graphs detailing every movement made by the body throughout the throwing motion. Written descriptions underneath each graph detail what the movement means, why we should care about it, and how well the athlete performs the movement. Graphs are synced up with high-speed videos to show athletes what they look like in reference to what the data on the graph is showing them. Personally, I love being able to utilize video here as it's typically the medium athletes are already used to when discerning their mechanics. The biomechanics report is organized from top-down in conjunction with how we first create energy in the pitching motion up until it's transferred into the ball at release. As one makes their way down the report, the data will start to point towards the same two or three areas responsible for a loss of throwing velocity or nagging injury.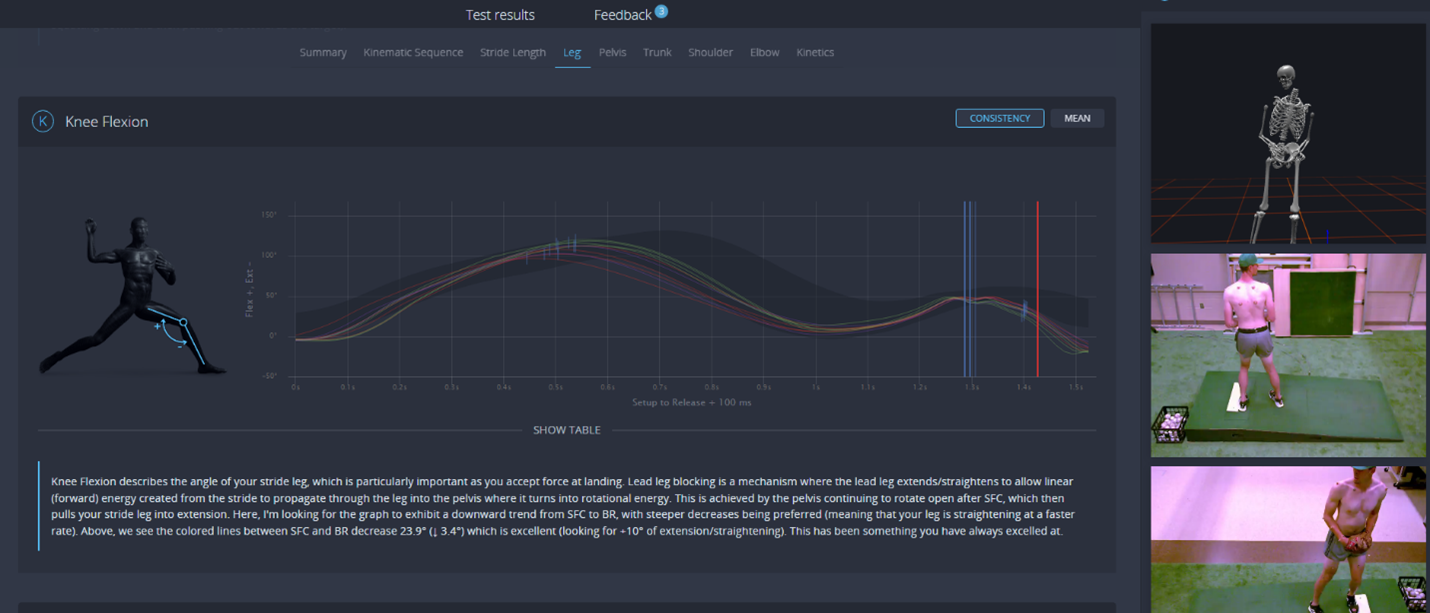 Summary
Our time as athletes is valuable, so why waste it guessing if you're actually working on the right thing? At the UNO Pitching Lab, we want athletes to know exactly what's going on within their throwing motion and develop faster with that knowledge. If you want to further your game, give us a call. We would love to have you as a part of the team.
Catch ya in the lab,
Tyler Hamer, Co-Founder & Lead Pitching Lab Researcher
Have an idea for our next post? Email us at bmchpitchinglab@unomaha.edu!