ISSUED: (Friday, February 22, 2019 13:55 PM)
SEVERE WEATHER ANNOUNCEMENT
For Saturday, Feb. 23: all on-campus classes are canceled, and campus buildings will be closed. Scheduled activities, unless otherwise noted, are also canceled.
More Information
CLOSE

X
By Melodae Morris
She had big dreams that she was going to be a Pixar musician by the next "Finding Nemo" movie and be in the orchestra that makes soundtracks.
While she got scholarships to be a music major, she says she discovered her love for writing her senior year in high school and "didn't know what to do with it."
Her parents told her to go with her strengths. Then, she says, "what if I did advertising for Disney one day? So here I am." 
Sara Atkins, 23, just graduated from the University of Nebraska at Omaha, with a degree in communication, with majors in journalism and media communication and French, along with a communication studies minor.
After attending Millard North High School, Atkins received a Buffett Scholarship in 2012 and lived on campus as a part of the Thompson Learning Community (TLC).
In June, she will begin her full-time job as analyst of marketing communications in the marketing department at PS Technology, a subsidiary of Union Pacific, where she has interned since July 2015.
The track to PS Technology began in October 2014 when she received and accepted an invitation from the UNO College of Business to join an honors marketing course. She was the only journalism student in the class. The purpose of the class was to be a consulting firm for companies. 
Dr. John Hafer, her instructor from the College of Business, called her with an opportunity for a year-round internship.  He responded by referring Atkins.
Atkins says that being referred by her former professor gave her a big shot of confidence in the skills she accumulated in the School of Communication, including public relations, graphic design and photography.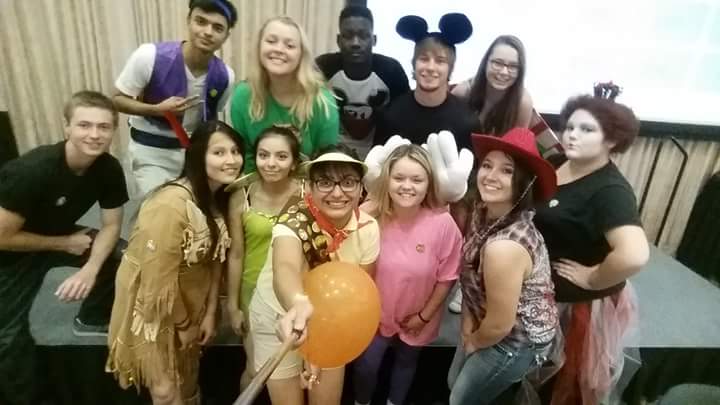 Sara was a peer mentor for the Thompson Learning Community
In her spare time, since 2015, she has been a marketing intern and now does pro-bono work for the Omaha Jitterbugs.  She also has worked at The Gateway student newspaper and been involved with student organizations such as PRSSA and MaverickPR. In addition, she was a peer mentor for the Thompson Learning Community, as one of the three original mentors for the TLC's Second Year Experience program.
As accomplished as she is, Atkins says life has not always been as promising.
Atkins moved to the United States from Mexico in 2004, after being separated from her mother for two years. During those two years, her mother completed the process of gaining citizenship for herself and her children.
"It was a blessing," she says.
However, in middle school, she said she was bullied by other students who would make disparaging comments about her Mexican heritage.
Her mother transferred Atkins and her brother to Millard Public Schools to participate in the International Baccalaureate program. 
"She always wanted the best for us," Atkins says.
"While the focus was on diversity at Millard North, the school was still mostly white, and I was one of five Mexicans … but I was the nerdy type."
She says she was bullied throughout high school by both male and female upper classmen.
Pushing through these daily struggles, she became a leader for marching band and first chair clarinet. However, she ended high school without a group of friends, she says.
"There are life obstacles, but I never really focused on them," Atkins says.
In May, Atkins became a first-generation college graduate. "My great-grandmother is still alive," Atkins says. "I want her to be there. I want to be able to go back to Mexico and give her my diploma."
Eager to grow her skills during her internship at PS Technology, she says she pitched an idea to the vice president of sales to create a web page to showcase the "masterminds" behind what the company produces.
Putting employees in the spotlight, she says, "I wanted to highlight new hires, interns and to create an internal awards section."
Through the School of Communication Media Storytelling courses, she says she was used to managing Word Press. She keeps a long-term schedule of postings to the site. Sometimes she gets submissions from employees for stories, and sometimes she does not.
"I constantly remind managers that I am excited to hear what's going on in their world," she says.
She says her goal was to prove herself at PS Technology to secure a job when she graduated.
Atkins is one of a handful of women and, she says, probably the youngest working there. "I never imagined in my life I would end up working in the IT department, but they trusted me to see what I can do and my value instead of micro managing me," she says.
Now, with a full-time job offer in hand, she says, "I feel like I hit the jackpot."
"I got here because of my connections with Dr. Hafer, and the internship changed my life," she says "I feel like students take those connections for granted.
Keeping the railroad all in the family, Atkins' grandpa also worked in the railroad industry in Mexico as a comptroller.
"My family is very proud of me," she says.
Still, she holds on to her dreams. "My ultimate dream is to be an imaginer at Disney."
Otherwise, she says, "I will stay here at PS Technology and in the UP family, then retire, move to Florida and be a door greeter for Disney!"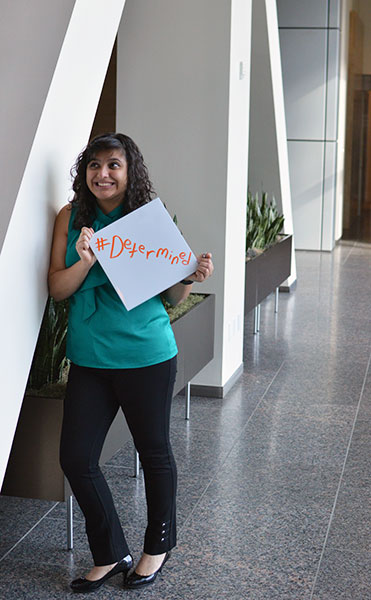 Our Campus. Otherwise Known as Omaha.
The University of Nebraska does not discriminate based on race, color, ethnicity, national origin, sex, pregnancy, sexual orientation, gender identity, religion, disability, age, genetic information, veteran status, marital status, and/or political affiliation in its programs, activities, or employment. Learn more about Equity, Access and Diversity.
scroll to top of page