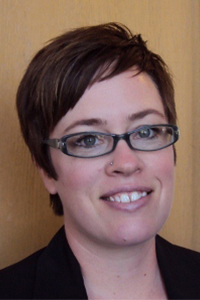 Dr. Julie Ann Pelton
Department Chair, Associate Professor
Sociology & Anthropology, Associate Professor
---
email:
office:
ASH  383 I
office phone:
area of focus:
Scholarship of Teaching and Learning, Theory, Social Movements, Culture, Environmental Sociology
note:
This profile is pulling in data from Digital Measures. Postings on personal websites or social media do not indicate that the individual is speaking on behalf of UNO.
General Information
Biography
Julie Pelton is an Associate Professor of Sociology at the University of Nebraska at Omaha. She completed her BS in Sociology at Illinois State University in 1999 and her PhD in Sociology (with a minor in Women's Studies) at The Pennsylvania State University in 2006.
Teaching Interests
Dr. Pelton currently teaches Sociological Theory and Senior Thesis, the capstone course for the sociology major, at the undergraduate level and a Seminar on Teaching at the graduate level. Her other teaching interests include sociology of food, social movements, culture, and environmental sociology.
Research Interests
Dr. Pelton's primary research interests are in the Scholarship of Teaching and Learning. Other research interests include classical and contemporary social theory, sociology of culture, social change and social movements, and environmental sociology.
Service Summary
Dr. Pelton is Chair of the Department of Sociology & Anthropology, past president of the Midwest Sociological Society, and past chair of the ASA Section on Teaching and Learning. She has chaired the Sociology & Anthropology Department's Assessment Committee and is Program Coordinator for the Online BA/BS Degree in Sociology. Additionally, Julie served as editor of TRAILS, the Teaching Resources and Innovations Library in Sociology (2015-2018).
Awards and Honors
2015-16 Outstanding Teacher Award , Teaching - 2015
AKD Friend of the Chapter Award, Service, University - 2016
Presidential Award, Service, Professional - 2016
Education
Ph D, The Pennsylvania State University, University Park, PA, Sociology, Women's Studies, 2006
Scholarship/Research/Creative Activity
Selected Publications
Pelton, Julie. 2014. How our Majors believe they Learn: Student Learning Strategies in an Undergraduate Theory Course, Teaching Sociology.
Pelton, Julie. 2013. "Seeing the Theory Is Believing": Writing about Film to Reduce Theory Anxiety , Teaching Sociology, 41, 1.
Pelton, Julie. 2014. Assessing Graduate Teacher Training Programs: Can a Teaching Seminar Reduce Anxiety and Increase Confidence?, Teaching Sociology, 42, 1, 40-49.
Externally Funded Research
MSS ED, Midwest Sociological Society, Associations/Foundations, 01/01/2016 - 12/31/2018
Determining High Impact Practices, National Science Foundation, Federal, 10/01/2020 - 09/30/2023
Service
Administrative Assignments
Director, Sustainability Minor, 09/01/2017 - 01/19/2022