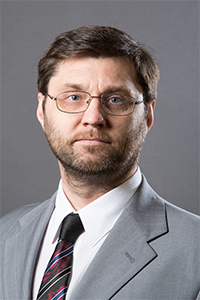 Alexey V. Krasnoslobodtsev, PhD
Associate Professor
402.554.3723
---
email:
office:
Durham Science Center | Room 119
lab location:
DSC 161
personal website:
Additional Information
Background
B.S., Novosibirsk State University, Novosibirsk, Russia
M.S., New Mexico State University, Las Cruces, NM
Ph.D., New Mexico State University, Las Cruces, NM
Dr. Krasnoslobodtsev joined the Department of Physics at UNO in August of 2014 where he is currently an Associate Professor. Dr. Krasnoslobodtsev teaches General Physics and specialized courses of Biomedical Physics concentration. Dr. Krasnoslobodtsev's passion is doing research in the field of single-molecule biophysics. He improves and utilizes single-molecule biophysical techniques to primarily answer fundamental questions related to the malfunctioning of DNA-protein and protein-protein systems. Dr. Krasnoslobodtsev's laboratory currently has a Tethered Particle Motion setup, Single-molecule Fluorescence, Total Internal Reflection Fluorescence, and Raman spectrometer used to study the effects of Enhanced Raman Scattering and utilize these effects for biomedical applications. 
Teaching
Primary teaching interests are in Biological and Medical Physics.
Courses taught:
Physical Pharmacy (Basics of Thermodynamics)
Gateway to Physics (Biological and Medical Physics)
Nanoimaging and Bioimaging (Single-molecule biophysical methods)
PHYS 1110 – General Physics I with Algebra
PHYS 1120 – General Physics II with Algebra
PHYS 2110 – General Physics I with Calculus 
PHYS 2120 – General Physics II with Calculus
PHYS 3300 – Introduction to Biomedical Physics
PHYS 4500 – Biological Physics
PHYS 4550 – Medical Physics
Teaching statement: Dr. Krasnoslobodtsev strives to create a challenging and positive classroom environment that stimulates learning and student engagement. 
Research Interests
Dr. Krasnoslobodtsev's research interests lie at the interface of nanotechnology, biology, and physics. His research program uses principles of these disciplines to answer fundamental questions of biology that can facilitate early diagnostics and effective therapeutic solutions. Specific examples of the research projects are: single-molecule studies of molecular mechanisms of protein misfolding phenomenon and protein-protein interactions; a combination of nanoimaging and nanomanipulation with spectroscopic techniques and the development of hybrid biosensing nano-platforms with high sensitivity.
Recent Publications
7 most recent publications:
1) Jamison Duckworth and Alexey Krasnoslobodtsev, "Modular Micro Raman Reader Instrument for Fast SERS-Based Detection of Biomarkers". Micromachines, 2022, 13(10), 1570.
2) Liam Yourston, Polikron Dhoqina, Nolan Marshall, Rujani Mahmud, Ethen Kuether, Alexey Krasnoslobodtsev, "Hg2+ detection with rational design of DNA-templated fluorescent silver nanoclusters". Processes, 2021, 9(10), 1699.
3) Lewis Rolband, Liam Yourston, Morgan Chandler, Damian Beasock, Leyla Danai, Seraphim Kozlov, Nolan Marshall, Oleg Shevchenko, Alexey V. Krasnoslobodtsev, Kirill A. Afonin, "DNA-templated Fluorescent Silver Nanoclusters Inhibit Bacterial Growth while being Non-toxic to Mammalian Cells", Molecules, 2021, 26(13), 4045.
4) Xuejing Shen, Tao Sun, Lei Yang, Alexey Krasnoslobodtsev, Renat Sabirianov, Michael Sealy, Wai-Ning Mei, Zhanjun Wu, and Li Tan, "Ultra-fast Charging in Aluminum-Ion Batteries: Nanofeatures of the Electric Double Layers on Active Anode", Nature Communications, 2021, 12, 820.
5) Liam Yourston, Lewis Rolband, Alexander Lushnikov, Caroline West, Kirill Afonin, Alexey Krasnoslobodtsev, "Tuning properties of silver nanoclusters with RNA nanoring assemblies". Nanoscale, 2020; 12, 16189-16200.
6) Liam Yourston and Alexey Krasnoslobodtsev, "Micro RNA Sensing with Green Emitting Silver Nanoclusters", Molecules, 2020; 25(13), 3026.
7) Liam E. Yourston; Alexander Y. Lushnikov; Oleg A. Shevchenko; Kirill A. Afonin; Alexey V Krasnoslobodtsev, "First Step Towards Larger DNA-Based Assemblies of Fluorescent Silver Nanoclusters: Template Design and Detailed Characterization of Optical Properties". Nanomaterials, 2019; 9(4), 613.
Synergetic Activities
Member of the Biophysical Society.
Member of The Nebraska Center for Materials and Nanoscience (NCMN).
Ad hoc Reviewer for 21 scientific journals.
Member of the Graduate Advising Committee (UNMC).
Member of the Premed Committee (UNO).
Mentoring research projects of undergraduate students.