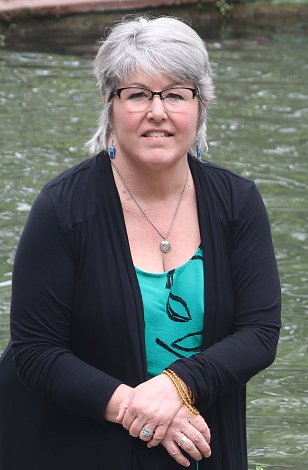 Jeanne Reames, Ph.D.
Associate Professor
Director, Ancient Mediterranean Studies
Greece & Alexander the Great, Ancient Near East, Early Church
---
email:
office:
department phone:
personal website:
Additional Information
Education
Ph.D., Pennsylvania State University (History)
M.Div., Emory University (Theology)
BA, University of Florida (English)
Background
Dr. Reames somehow managed to acquire three different degrees in three different subjects, but finally settled down to pursue ancient history after being lured in by the age-old fascination of Alexander the Great. She received her PhD from the Pennsylvania State University in 1998, where she studied Macedonian history under Eugene N. Borza.  She also developed a fascination with the Ancient Near East, especially the Sargonids of Neo-Assyria and the Achaemenid Persians.
She is the author of several articles about Alexander and his court, including, "Becoming Macedonian: Name-mapping and Ethnic Identity," in Karanos, "The Cult of Hephaistion," in Responses to Oliver Stone's Alexander (Paul Cartledge and Fiona Greenland, eds.), "The Mourning of Alexander" in Syllecta Classica, and "An Atypical Affair: Alexander the Great, Hephaistion Amyntoros and the Nature of Their Relationship," in The Ancient History Bulletin.  Other articles and chapters have appeared in The Ancient World, and Alexander's Empire: From Formulation to Decay (Waldemar Heckel and P.V. Weatley, eds.)  She edited (with Tim Howe) Macedonian Legacies (Regina Pub., 2008), and has a chapter "Agriculture and Warfare" forthcoming in Blackwell's Companion to Greek Warfare (Waldemar Heckel, ed.), co-authored with her student, Ann Haverkost. She is completing two more chapters, one on Alexander in fiction post-Stonewall, and the other on religion, oracles and dreams in the campaigns of Philip II and Alexander, for other Companion collections. Her current monograph project is a court study tentatively titled Playing for Keeps: Hephaistion and Krateros at the Court of Alexander the Great.
Outside academia, Reames writes fiction, cooks, and enjoys getting her hands in the dirt (gardening). She has one adult son and two impertinent black cats. She's a part-blood Miami-Peoria Indian and belongs to UNO's Native American Studies faculty -- mostly as support personnel and living proof that one's interests are not genetic.
She has a pair of novels from Riptide Publishers about the young Alexander before he became "the Great"—Dancing with the Lion: Becoming and Rise.
Frequently Taught Courses
Ancient Greek History (HIST 2510)
Mesopotamia and Pre-Islamic Persia (HIST 4820/8826)
Greek Myth, Religion, and Magic (HIST 4830/8836)
Alexander the Great and the Macedonian Origin (HIST 4840/8846)
Rome and the Early Church (HIST 4850/8856)