History Intern Program
The History Intern Program fosters connections between UNO students and the Greater Omaha community. It also supports the History Department's growing Public History Program and Digital Humanities Initiative.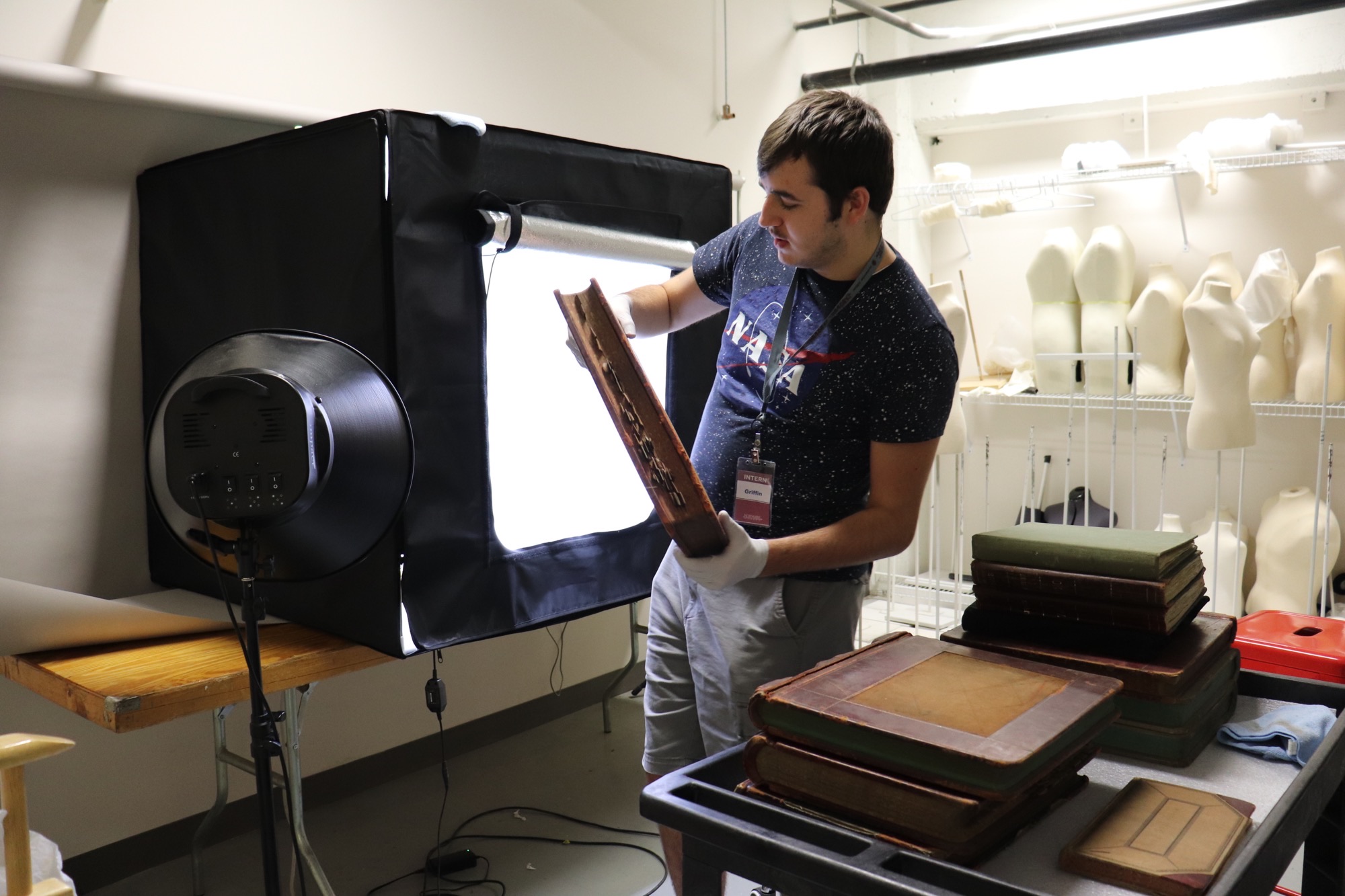 History Major Griffin Saunders participated in an internship at the Durham Museum in summer 2023.
---
Why should you be a History Intern?
The History Intern Program ("HIP") at the University of Nebraska at Omaha offers undergraduate and graduate students the opportunity to gain experience in a variety of fields in the historical profession. Student interns who major, minor, or earn a master's degree in history become deeply engaged in learning about the practical uses of history outside the classroom setting. They also learn how they can use their interests in history to become informed and civically engaged. During their work with Partnering Institutions, student interns develop connections with public audiences throughout the Greater Omaha community and Great Plains region.
As a student, your educational experiences will overlap with many similarities. What stands out to employers is students who have work experience in the field of history by the time they graduate. This makes you more marketable in the historical profession, as you have already acquired specialized skills as well as transferable skills (such as communication/interpersonal skills, digital or online proficiency, and team work). Internships that are paid can also offer financial support to you throughout the semester and help alleviate financial responsibilities.
A degree in history offers students with an endless list of career options. History is a unique field in that it allows students the freedom to define their professional ambitions. An internship in the broad field of history will connect you with new colleagues, supervisors, role models, and even potential employers.
---
Credit/No Credit/Enrollment
Students can hold positions that are paid or unpaid. Students who are working as paid interns are encouraged to register for internship credit, but they are not required to do so. Students who take positions as unpaid interns must enroll in course credit. Undergraduate students will register for HIST900: Research/Directed Readings. Graduate students will register for HIST020: Graduate Internship. Before enrolling, contact Dr. Sharon Wood, the HIP Coordinator.
---
Networking & Careers
Most students enter college with an idea of a major and a career path...and most students end up changing their minds (several times)! Exploring different classes and professions is a very important part of the academic process. Gaining work experience as an intern is a great way for students to become aware of the diverse selection of career paths for history majors.
History internships also allow you to become connected to a network of professionals outside of the university classroom. An internship is more important than getting a grade, earning credit, or making money. This is an opportunity to learn from those around you, ask questions, and impress them with your knowledge, energy, and skills. These people might just be the connections for your first job.
---
Partnering Institutions
Below is a list of past and present Partnering Institutions from throughout the Greater Omaha area and Great Plains Region where our undergraduate and graduate students have held internship positions. This list continues to grow as the History Department strengthens its mission on building a program that emphasizes Public History and Community Engagement. If you or your organization/business is interested in forming a partnership with the UNO History Intern Program, please contact Dr. Sharon Wood, HIP Coordinator.
Great Plains Black History Museum
Criss Library Special Collections (UNO)
National Park Service (Midwest Regional Office)
Gerald R. Ford Conservation Center (NSHS)
Saunders Historical Society (Wahoo)
UCC First Congregational Church