A Commitment to Human Rights
Shirley and Leonard Goldstein devoted over 40 years to the cause of human rights around the world. Their primary advocacy was on behalf of Soviet Jews in the 1970's and 1980's who were deprived of freedom of movement and the right to practice their minority religion. After dozens of trips to the USSR, Washington DC, and human rights gatherings around the world, Shirley Goldstein helped to relocate hundreds of families to Omaha, Nebraska and elsewhere in the USA. In 1996, Shirley Goldstein was awarded an honorary Doctor of Humane Letters degree from UNO for her many contributions related to advocacy for human rights.
Leonard and Shirley Goldstein decided to expand their efforts on behalf of human rights in 1997 by establishing an annual lecture on the UNO campus. The Goldstein Lecture on Human Rights is designed to focus attention on the plight of people around the world who suffer from abuse. The Lecture today keeps UNO and the Omaha community as a whole informed about human rights issues and activities.
With the help of their children, the Leonard and Shirley Goldstein Center for Human Rights was established in December 2017. In conjunction with the creation of the Goldstein Family Community Chair in Human Rights, it will extend the Goldstein family's fervor for human rights to future generations.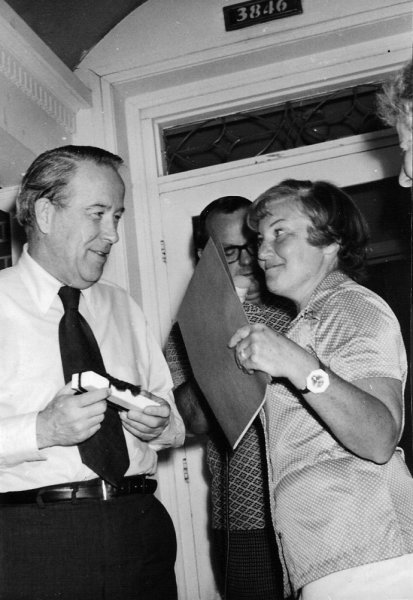 (Shirley Goldstein with Senator Henry "Scoop" Jackson)