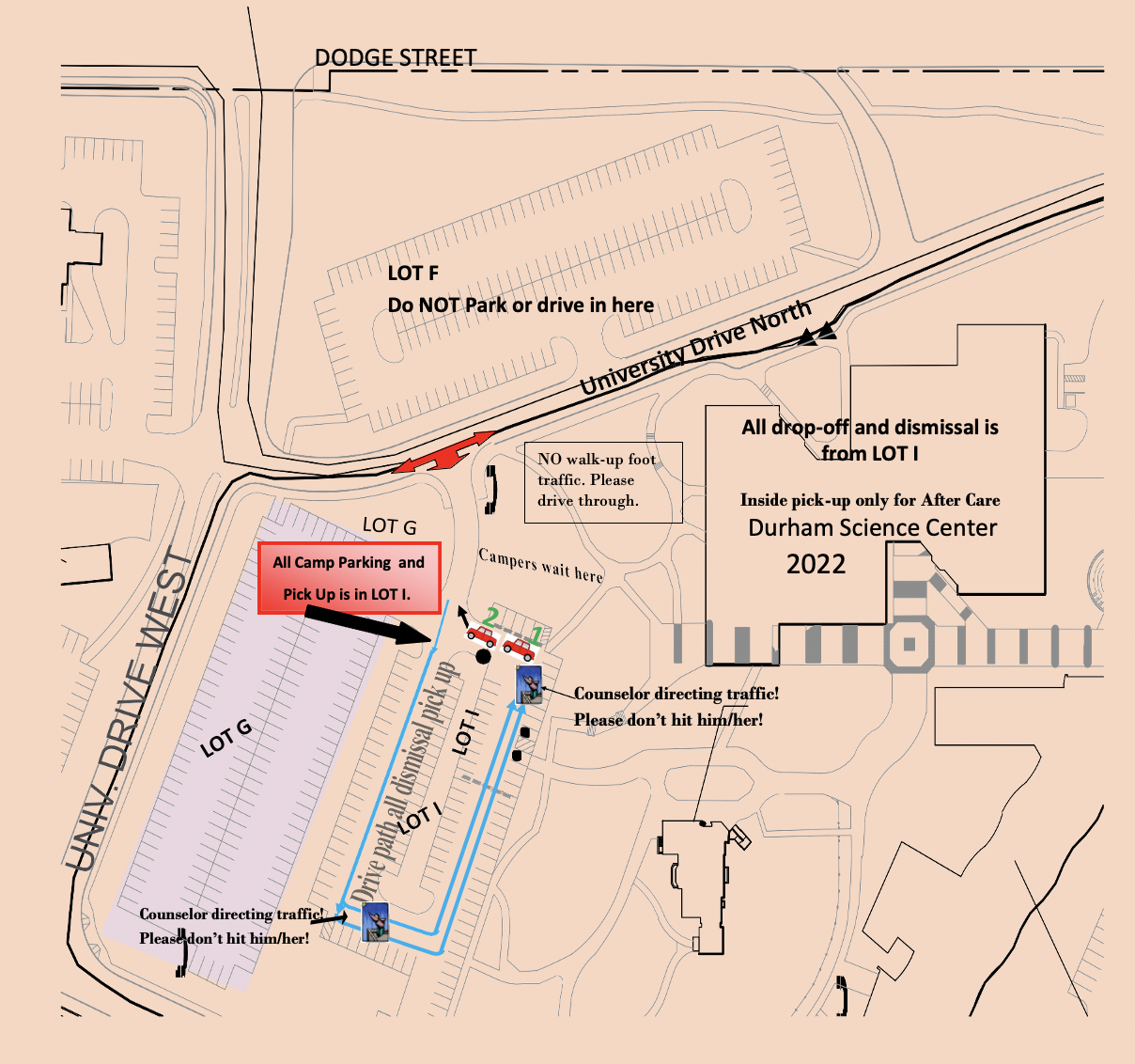 ---
Reminders:
Your patience is necessary as we do our best to keep your child safe.
Please inform whoever will be dropping off and picking up children of these instructions.
Adults unwilling to abide by these instructions may be asked to keep their child at home (no refund).
No parking in Lot F at any time.
All Camp Parking and Pickup/Dismissal is in LOT I
MONDAY: Please escort children into the building on the first day to complete the registration process.
Tuesday-Friday: Children may walk up unescorted, as counselors will be there to meet them.
All dismissal will be outside for the summer of 2022.
Afternoon Dismissal: Loop through Lot I only. Please do not park. There is no inside dismissal this year. No children will be released from inside the building after 2:45.
Self-sign Dismissal
Dismissal begins at about 3:25 p.m. Please do not come too early; coming a little later to pick-up will helps ease the congestion. PLEASE follow the loop of traffic through LOT I. (see map) and have your "Pick-Up Pass" in the window. Be patient. We will work as safely and quickly as possible.
Children will not be released inside. Outside pick-up only. All children will be dismissed as "Self-Release." Staff will take your child directly to your car.
Children will wait under the large tree and be walked to the car by staff when you arrive at the pick-up area in Lot I by the yellow barriers. A staff member will walk the loop checking for "pick-up passes" in the window of waiting cars. If a pass is not displayed, the counselor will ask the driver's name and the child's name. He/she will check the authorized pick-up list. If the person driving is not on the list, the counselor will have the driver call the parent to get verbal permission allowing the child to leave with him/her. The counselor will need to hear from the parent and feel sure this is the correct person before releasing.
CHILDREN WILL NOT BE DISMISSED TO ANYONE WALKING UP TO THE AREA BY THE TREE.
Should we have lightning during dismissal, campers will be taken to the atrium on the first floor and slowly dismissed from there to the bus pick-up area in the front of the building as parents drive up. Wet counselors will relay names to the waiting campers so they can run out to their car. Should you decide to wait out the storm and come a little later, that will be fine. Just come into the building to room 115. We will dismiss from there after 3:45.
Adults unwilling to abide by these instructions may be asked to keep their child at home (no refund).