Meet the Director
Connie O'Brien has been director of Aim for the Stars Summer Science and Math Camp at the University of Nebraska at Omaha since 2000. She received her B.A. from Wayne State College in Wayne, NE and her M.A. in Secondary Science Education at UNO.
Connie has been involved with out-of-school time programs since 1974 when she started as a camp counselor for the Bellevue Day Camp. She was a classroom teacher for 24 years with the Bellevue Public Schools and the Council Bluffs Community School District.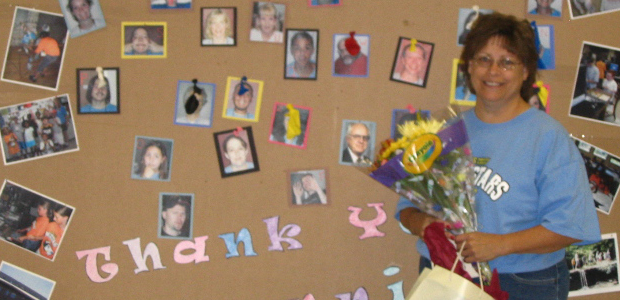 Connie O'Brien, AFTS Director since 2000.
At the UNO Aim for the Stars program, she is responsible for all aspects of the camp, including:
Hiring teachers and counselors
Supervising the development of curricula
Extending partnerships with area school districts and businesses (including OPPD, Peter Kiewit Institute, Hobby Town, Omaha Public Schools, Council Bluffs Community Schools, Westside, Ralston, Bellevue and Millard Public Schools)
Developing rosters and management tools necessary to manage all campers and the use of university classrooms and facilities
Tracking camp demographics, and grant writing
Connie's passions include her grandchildren, gardening, and reading as well as creating ways for children to enjoy science and math.
Connie says, "Informal, hands-on education is the best way for children to learn and explore. It is much easier to love a subject when there are no tests! Aim for the Stars is all about having fun while learning!"