Graduation, Commencement, and Beyond
"You are educated. Your certification is in your degree. You may think of it as the ticket to the good life. Let me ask you to think of an alternative. Think of it as your ticket to change the world." - Tom Brokaw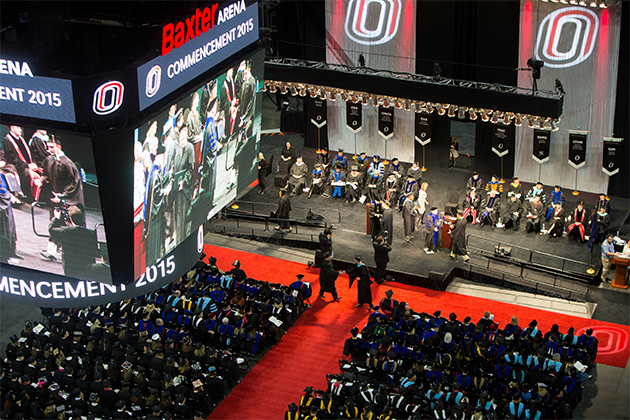 Undergraduate Graduation Checklist
Check out our Undergraduate Graduation Checklist for information on upcoming deadlines, commencement, and planning for life after UNO.
---
Senior Check
What is a Senior Check?
A senior check is an audit of a prospective graduate's academic record in which an official list of remaining degree requirements is provided to the student. It is important to request a senior check so that the Arts and Sciences Advising Center and your department advisor can help you make sure you are on track to graduate.
Download the Senior Check Form
When should I get a Senior Check?
We strongly encourage all undergraduate students to request a Senior Check once they have completed 91 credit hours of coursework.
If a student does not request a Senior Check, the responsibility for meeting the requirements for graduation falls on the student; if errors are made, they can prevent graduation at the anticipated date.
How can I get a Senior Check?
Students can have a Senior Check completed by doing one of the following options:
Schedule an appointment with an advisor to go over the remaining degree requirements
Once the request is completed, an official list of the remaining degree requirements will be sent to the student's UNO email address.
---
DegreeWorks
What is DegreeWorks?
DegreeWorks is an online degree audit that lists all of a student's requirements in an easily readable format. The information in DegreeWorks can be viewed by your academic advisor as well as you.
It is a great tool for helping you stay on track for graduation and to prepare for advising appointments. You can explore with your advisor different possibilities if you are thinking about making a change to your academic program
Where can I access DegreeWorks?
Students have access to DegreeWorks through their MavLINK homepage.
How can DegreeWorks tell me when I'm ready to apply for graduation?
When you sign up for your last semester of classes, DegreeWorks should show:
Progress bar at 98% completion (Not 97% or 99%)
Credits showing 100 % complete

No RED should be in your report
---
Graduation Requirements
What are the graduation requirements in the College of Arts and Sciences?
A minimum cumulative GPA of 2.00 is required to graduate.
A minimum of 120 completed credit hours is required to graduate.
A minimum of 27 completed credit hours of upper-division (3000/4000 level) coursework (effective Fall 2017).
All required courses must be completed with a "C-" or higher. (NOTE: Some programs require a "C" or higher in major and/or minor coursework. Please check with your major/departmental advisor on your program's grade requirement.)
Apply for Graduation
When do I apply for graduation?
You must complete an Application for Degree during the semester in which you plan to graduate. Application for Degree deadlines are in the academic calendar.
How do I apply for graduation?
Log into MavLINK and fill out the application on or before the deadline for that Graduation Ceremony. Directions and guidelines on completing this process can be found on the registrar's webpage.
There is a $35.00 Application for Degree fee payable at the time the application is submitted. There is a $5.00 fee for certificate programs.
At what times during the academic year can a student graduate?
A student may graduate in May, August, or December. If a student elects to walk in Commencement, they may only participate in the Commencement ceremony occurring at the end of their graduating semester.
---
Commencement
What is Commencement?
A ceremony during which degrees or diplomas are given to students who have graduated from a college.
Do I have to attend Commencement to get my diploma?
You do not have to attend Commencement, but UNO strongly encourages it. Commencement is a chance for your family and friends to see you walk across the stage and celebrate your accomplishments.
When do I get my diploma?
Diplomas will be mailed out within one month after graduation.
Visit UNO's Commencement website for more information on the upcoming ceremony and how to get your graduation regalia (robes, caps, tassels, etc).
---
Future Plans
Employment
How can I find out more about jobs?
UNO has a wonderful Career Services office that can help you learn more about different employment opportunities. Your major department is also a great resource.
Can someone help me with my résumé?
Career Services also provides services and tools to help students create and/or refine their résumés:
Graduate Programs
Why would I want to go to graduate school?
It might help you advance in your field of choice or provide more in-depth learning.
What kind of degrees can I earn at the graduate-level?
Students can typically earn a Master's degree (which is usually a 2-3 year program) or Doctorate degree (which is usually a 4-5 year program).
How do I apply to graduate school?
The admission requirements can vary for different programs, so it would be important to check with that program on what they require for admission.
Visit UNO'S Graduate Studies website for more information on our doctoral and master's degree programs.