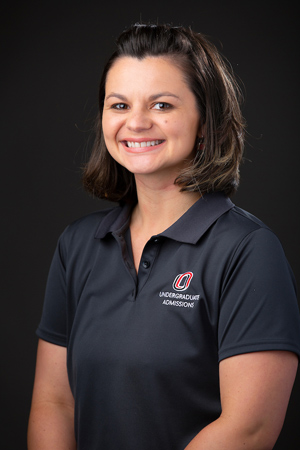 Lacey Dudash
Associate Director of Undergraduate Admissions
---
Additional Information
High School
Palmer High School
About Lacey
How did you learn about UNO?
My Aunt received her bachelor's degree in Library Science at UNO and my husband received his bachelor's at UNO. I was at Bellevue University at the time when I realized how much I was missing out on the college experience. So I attended UNO and received my degree in 2014. After that, I was one of those individuals who kept applying every few months to get my foot in the door, back to UNO. After nearly five years I made it!
 
What was your first experiences with UNO?
As a student, I felt like I was back at Nicholls State University, where I first went to school after the military. Meaning, the school was small but filled with its own unique characteristics. I felt like I was plopped into the middle of a small town in a big city. The classes were mostly small and intimate and the professor welcomed questions, the more the better. 
What are some of your favorite experiences on campus as a student or employee?
Some of my favorite experiences on campus were definitely Durango Days, classes, and research projects. I also loved my astronomy class; our class was in the planetarium and one time, for fun, I went to the after school event to see the stars and solar system at the planetarium. We also went on the roof to see through the telescope at the Durham Science Center—highly recommended and open to the public!
What do you enjoy most about working with students?
I love helping transfer students, whether from a community college, military, or out of state. Making sure their transition to UNO is smooth sailing. I also enjoy being that person to provide the right information for prospective students who have been guided wrong. I like to make sure they are pointed in the right direction with their head held high with more confidence on their future.
What do you enjoy most about working at UNO?
I enjoy the opportunity to succeed personally and to help others succeed. I like that we work as a team to achieve the common goal, which is having student come to our university, break down their barriers, and succeed in life. What I also love is working on my own—completing tasks that also work toward reaching our group's common goal.
What makes UNO unique from other universities?
UNO is unique because it feels like a small town in a big city. The community is diverse and eager to collaborate and achieve goals. I loved that I was able to work on campus while being a student, I really never wanted to leave. I worked as a peer advisor at the College of Education with their wonderful team, as well as KVNO/UNO Television when they were one force. These opportunities set me up for success, and made me strive to get back on campus to work. This place is very welcoming and also moving forward.
Do you a unique experience as a student at UNO?
As a student, I studied psychology and all my professors had their unique way of teaching the material. Not only that, they enjoy the work they are doing. The professors here do not portray any signs of discouragement in teaching. They are here because they believe what they are teaching matters. I loved sitting in on classes and hearing lectures, whether I enjoyed the material or not is irrelevant, knowing that my professors believed in what they presented is what mattered.
Why did you choose to work at UNO?
Well, I was at Bellevue in an accelerated program, getting great grades. However, I did not feel like I was learning anything or enjoying what I was learning. My husband, boyfriend at the time, said try UNO it's a great school. So, I took his advice and will never regret that decision. I hope to stay here as long as I can.