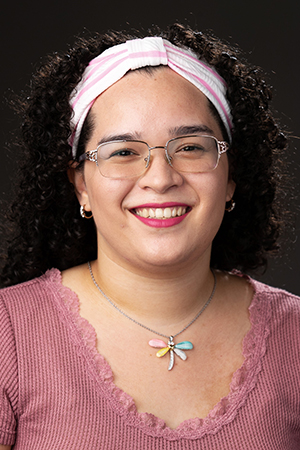 Pamela Martínez Oquendo
PhD Candidate
STEM TRAIL Center
---
email:
office:
https://pamela-48.youcanbook.me
Additional Information
---
While completing her Bachelor of Science at the Pontifical Catholic University of Puerto Rico, Pamela developed an interest in informal education in STEM-related fields. Her past research experiences include two National Science Foundation, Research Experiences for Undergraduates (REU) programs. She completed an internship at Grand Valley State University, where she studied the germination rate of field-collected and commercial seeds of an invasive ornamental plant to effectively eradicate it from the surrounding dunes at Lake Michigan.
In another REU at Mountain Lake Biological Station at the University of Virginia, Pamela studied the effects of anthropogenic disturbances such as buildings on the morphology of the red-backed salamander. For this project, she contacted members of society to use their houses as salamanders' study sites. Thus, connecting with the public by educating the families about the ecological importance of salamanders in the environment. 
As a PhD student, Pamela is focusing on Discipline-Based Education Research, being co-mentored by Drs. Cutucache (UNO) & Forbes (UNL). Her long-term goal is to disseminate science education knowledge by conducting outreach programs with the community to build bridges between research and education in the STEM fields. Her objective is to motivate and increase the number of students interested in pursuing schooling and careers in STEM-related areas.
In her free time, Pamela enjoys watching movies and TV dramas. Her favorite movies are The Curious Case of Benjamin Button, Pan's Labyrinth, and The Shape of Water.