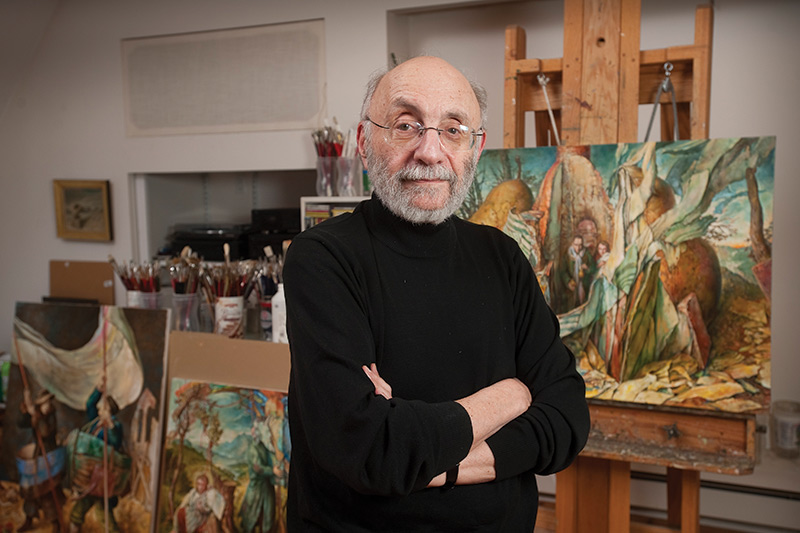 Samuel Bak was born in 1933 in Vilna, Poland, at a crucial moment in modern history. On the eve of World War II, Bak lived under Soviet and German occupation from 1940 – 1944. Bak's artistic talent was first recognized during an exhibition of his work in the Ghetto of Vilna when he was nine years old. While and his mother were sheltered in a local convent, his father and four grandparents all perished at the hands of the Nazis.
At the end of World War II, he fled with his mother to the Landsberg Displaced Persons Camp, where he enrolled in painting lessons. Bak studied art in Munich and later at the Bezalel Art School in Jerusalem after immigrating to the newly formed state of Israel with his mother in 1948. Bak completed his mandatory service in the Israeli Army. In 1956, he went to Paris to continue his education. He received a grant from the America-Israel Cultural Foundation to pursue his artistic studies.
In 1959, he moved to Rome where his first exhibition of abstract paintings was met with considerable success.
Since 1959, the artist has had numerous exhibitions in major museums, galleries, and universities throughout Europe, Israel, and the United States, including retrospectives at Yad Vashem Museum in Jerusalem, and the South African Jewish Museum in Cape Town.
He has been the subject of solo exhibitions at the Bezalel National Museum in Jerusalem and the Tel Aviv Museum of Art, and his work has been exhibited at Holocaust museums around the world. He has lived and worked in Tel Aviv, Paris, Rome, New York, and Luasanne. In 1993, he settled in Massachusetts and became an American citizen.
The aftermath of World War II features prominently in his work, as do visual metaphors representing Jewish genocide and the subsequent liberation of the Jewish people in the 20th century.