Next Season Systems Helps Farmers Plan Better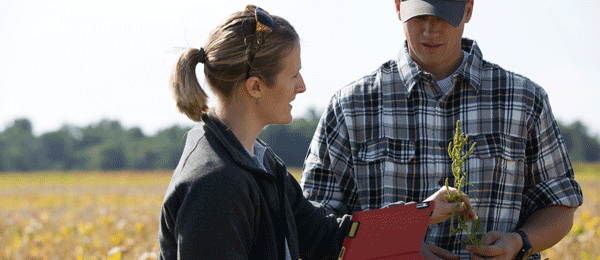 The Nebraska Business Development Center (NBDC) is helping Next Season Systems, LLC, determine the best strategies to market the company's unique mobile apps that make field management easier and more effective for farmers.
Consuelo Romero, Ph.D., founded Next Season Systems in 2015. Romero, an expert in soil sciences, currently services as the managing director. In 2017, her husband, Guillermo Baigorria, Ph.D., who is highly-skilled in climate, soils, and crop modeling and its integration, joined the company. He is the research and development director.
Natives of Peru, the couple came to the United States in 2004 to conduct post-doctoral work at the University of Florida. Romero joined the irrigation/water conservation group. Baigorria developed new methods of crop yield forecasting and crop modeling. They moved to Lincoln in 2012 when Baigorria accepted a faculty position at the University of Nebraska, where Romero started to work on the effects of climate and soil variability on crop growth as a research scientist.
With a Brazilian colleague, Romero founded AgexTec in 2016 to represent Next Season Systems in Brazil while collecting crop data. Sales started there in 2017. The companies offer online applications that calculate climate risks and other data and enable farm producers to tailor irrigation and fertilization practices in order to optimize crop production. The smart system apps analyze weather forecasts, soil data, crop genetics and farm management needs.
Baigorria, who has been writing computer code since he was 14, began developing the applications for Brazilian farmers after an initial website failed to connect with farmers during the first year of service. They are currently working on versions for U.S. farmers, with launch expected in early 2019. "We are still in the translation process," Romero says.
Having been aware of the NBDC office on the UNL campus, Romero says they turned to Umeda Islamova, the Lincoln NBDC director, to learn how to develop more effective marketing strategies. "She helped us understand how to better connect with new clients, and how we could improve our website," Romero says.
The NBDC provided export assistance, market research on effective selling to farmers, advice on setting sales strategy at a tradeshow, as well as initiating connections locally, which resulted in Next Season Systems presenting at 1 Million Cups, a free program designed to educate, engage and inspire entrepreneurs held in 180 communities across the country. Romero and Baigorria also attended a seminar with an investor.
Romero says that since their initial meeting, she has frequently been in touch with Islamova, seeking professional guidance and sharing news about how the company is progressing toward its goals.
"When we started out with Umeda, not many people knew about our company, or even knew our name," Romero says. "We are working together to find ways to change that. It is a slow process, but she keeps encouraging us to get out there, knock on doors and gain the confidence of our clients and confidence in ourselves."