Jacobi's Carpet One Floor & Home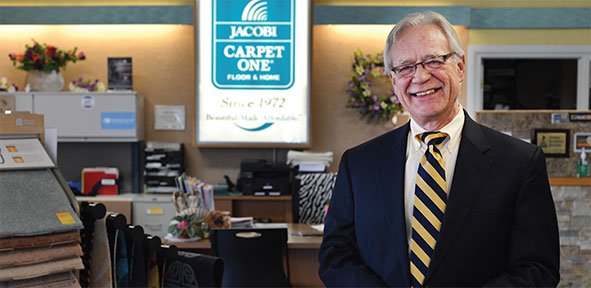 Assistance from the Nebraska Business Development Center (NBDC) office in Grand Island has enabled Jacobi Carpet One Floor & Home to refinance existing debt and provide additional working capital for the business.
The company was founded 45 years ago in downtown Hastings by H. Edward Jacobi, whose son, Tim, now serves as its president. Tim's wife, Jody, is the vice president. The company, which also has a retail showroom in Kearney, provides flooring products, window coverings and professional installation throughout central Nebraska and into northern Kansas.
Jody Jacobi says the company began working with NBDC consultant Sara Bennett in late 2015. "We connected with her through a bank and she talked us through all that needed to be done and what she could help us with," Jody says.
Bennett worked with the Jacobi's to determine the best loan structure to minimize fees and improve cash flow. She served as an advocate when the Jacobi's experienced a number of frustrating obstacles and months-long delays from the first bank they approached. Bennet also helped them navigate the requirements to obtain a Small Business Administration (SBA) guarantee for the loan.
"There was so much work involved and she was very, very helpful," Jody Jacobi says. "Every time we faced another delay or another hurdle was thrown our way, she was so encouraging."
Ultimately, the Jacobi's took the loan package Bennett had prepared to another area bank.
"Sara was so good getting everything we needed in place, in 10 days we had a loan," Jody says. "They didn't even need the SBA guarantee. It was all so well put together the banker didn't have any questions about anything."
Bennett's experience "was huge for us," Jody says. "She made us much more aware of the level of detail the bank wants to see. She made a huge difference getting us to where we are today."
Tim Jacobi is very active in the flooring industry, serving as a leader for change and innovation. He is a board member of the World Floor Covering Association and a member of the organization's education committee. He is a charter member and past president of the Nebraska-Iowa Floor Covering Association, a past member of the advisory council for Carpet One, and served more than a decade as chairman of the Great Plains Regional Network Group of Carpet One.
Jacobi Carpet One Floor & Home is generous to the communities it serves. Tim Jacobi has volunteered on the boards of numerous civic and charitable organizations. The company donates inventory to the Habitat for Humanity Restore in Grand Island; flooring for halfway houses for Revive Incorporated in Hastings; flooring for projects in Hastings Catholic schools; and gift certificates for flooring to the area Catholic and Lutheran schools' annual galas and to Remodel for Kids, the annual Big Brothers/Big Sisters fundraiser, and many other benefits and fundraisers.
Tim says he considers Bennett and NBDC a "tremendous resource" for the region's small businesses. "Had we known five or 10 years ago that kind of help was there for us, our business could have been different," he says. "It's like having a fresh set of eyes looking in from 10,000 feet when you have your nose to it every day."