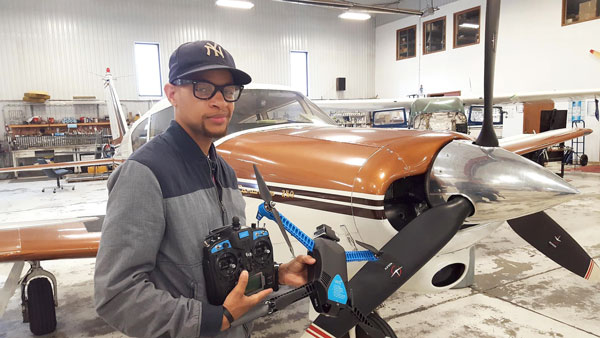 Guidance Yields Contracts for The Drone School
Working with the Nebraska Business Development Center (NBDC) helped Ean Mikale get Infinite 8 Aeronautics/The Drone School off the ground.
Mikale, who is the founder and chief innovation officer at Infinite 8 Institute in Omaha, was contemplating two sources for funding his subsidiary, The Drone School, when he first met with NBDC Technology Commercialization Program Director Wei Jing in November 2015.
"One option was applying for a National Science Foundation SBIR (Small Business Innovation Research) grant," Mikale says. "The second option was to generate revenue through federal contracting."
At the time, the only way for a person to fly a drone in a for-profit commercial venture was to be a licensed aircraft pilot or work for a public agency, Mikale says. "The initial idea was to obtain a SBIR grant and use it to create software that would train drone students to prepare for the Federal Aviation Administration (FAA) pilot's exam," he says.
Wei helped him with the SBIR application process, drafting and reviewing the SBIR proposal, and applying for Nebraska state SBIR matching funds.
However, Mikale says, the length of time between applying for and actually receiving the grant money was not feasible for the rapidly-evolving commercial drone industry. For example, the FAA has since issued new rules which allow for non-hobbyist small unmanned aircraft (UAS) operations – Part 107 of the Federal Aviation Regulations – which removed the requirement to be a licensed pilot.
Instead, Mikale utilized the capability statement and other information assembled with NBDC to obtain Nebraska Department of Labor and U.S. Department of Labor contracts to create two apprenticeship programs, one for commercial drone pilots and one for commercial drone software developers.
"We saw more of a niche in the market if we pursued these instructional offerings," Mikale says. "Also, we have found a lot of business owners and government agencies are aware of drone technology, but not how it can benefit their organization or give them a competitive edge. We want to fill that gap."
Mikale started Infinite 8 Aeronautics/The Drone School sitting at a single desk and has grown it to occupy five suites at Commerce Village, 950 S. 10th Street. He has a total of 11 employees working either in Omaha or the Sprint Accelerator in Kansas City.
His flight instructors have successfully passed the FAA Remote Pilot Examination and are certified to commercially operate unmanned aerial systems or drones. "Ninety percent of our staff are former students," Mikale says.
To date, he says, 30 people have completed the school's instructional programs, and three have gone on to create businesses utilizing the commercial drone technology in applications ranging from sports to security and agriculture.
He says partnering with the NBDC was instrumental in determining the best funding course for his new business.
"The capability statement we developed made us more attractive in the federal contracting space and also enabled us to better navigate that space," he says. "Wei was very helpful in refining our business model. Even though we didn't obtain the SBIR funding, the process forced us to step back and rethink how we could accomplish our goal. It really spurred our success."