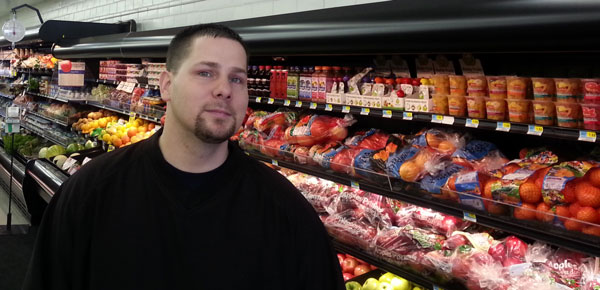 High quality meats and the freshest produce—coupled with personal customer care from carry-out service to home delivery—are trademarks of Hometown Market in St. Paul. Owner Blake Schwartz has worked in grocery stores since he was old enough to get a job. He started as a "bagger" and gained experience in every department from frozen foods to produce, becoming a department manager for a Grand Island grocery at age 21.
He knows first-hand the difference great service can make in customer loyalty.
"We've always carried groceries out for people and we're never going to get rid of that," Schwartz says. "You have to take good care of your customers. It's important everywhere, but I think it's especially important in a small community where it's more noticeable."
Schwartz became a co-owner of the store, then a Jack & Jill Grocery, in 2005 when three investors were looking for a fourth who would also serve as store manager. In June 2012, he had the opportunity to buy out the other investors and did so with help from business consultant Sara Bennett at the Nebraska Business Development Center's University of Nebraska at Kearney regional office.
"I was looking for Small Business Administration financing but I actually was able to get a loan from Homestead Bank here in town," Schwartz says. "The valuation Sara worked on was the key."
He says Bennett utilized her considerable expertise to help him navigate and complete the daunting paperwork involved in the loan application and purchase. "When it came to determining Fair Market Value, everyone seemed to have their own definition," Schwartz says. "But Sara's knowledge of the valuation process was extensive, especially knowing which questions to ask and answer."
"To get help from a professional like her really proved what the business was worth, and that impressed our bank."
Hometown Market employs about 30 people on a full- or part-time basis. Schwartz has gradually updated the 10,000-square-foot store's hot, deli and beverage cases, as well as incorporated other improvements. "We're moving in the right direction," he says. "Visually, I think the store looks really nice. The community is happy with what we're doing, based on customer feedback."
He says Hometown Market has benefited from its partnership with AWG-Associated Wholesale Grocers and its distribution center in Norfolk. "Being an independent grocery, our relationship with AWG gives us access to the tools we need to be successful," Schwartz says, including a customized website, extra-savings programs and lower costs that he can pass on to his customers.
"Owning the store gives me the motivation to constantly improve our services," Schwartz says. "We've always tried to make things better for our customers, but sole ownership has really heightened the incentive."
NBDC works with business owners to prepare them for the sale of their business. Owners who have identified a buyer should consider a valuation to ensure that their business is priced appropriately.
Experts with NBDC determine the current value of a business, recommend ways to improve the value while positioning the business for transition, and offer suggestions for types of buyers and deal structures. The plan is designed to be used in combination with guidance from an owner's existing advisors.