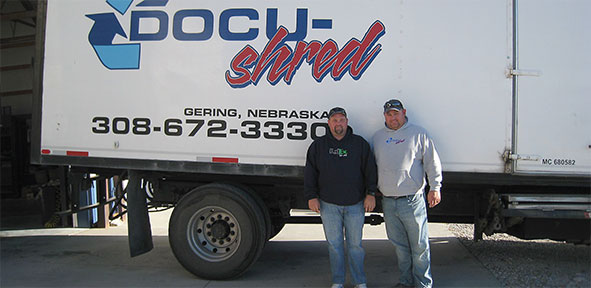 Long before they shredded their first sheet of paper, John Schlothauer and Douglas Koob contacted Ingrid Battershell, director of the Nebraska Business Development Center (NBDC) office in Scottsbluff.
It was 2009, and the two men had the idea of opening their own document shredding service in Gering. At the time, shredding for area businesses was done by a company in North Platte. The two men visited with area business owners and determined they had the support they needed to succeed.
They also needed help with a business plan to obtain a loan and purchase a shredding truck, so they visited with Battershell. She helped them by preparing the cash flow projections and pro forma financials they needed. They started their company, Docu-Shred with one truck and one shredding day.
In 2010, they acquired a contract with the local hospital and returned to NBDC's office to obtain the cash flow projections necessary for a loan to buy a second truck. As the business continued to grow, they also purchased a skid steer, paper baler and cardboard baler, and built a 3,600-square-foot warehouse.
In 2013, Schlothauer and Koob worked with Battershell on cash flow projections on the feasibility of purchasing a FedEx ground route in Cheyenne County, Neb. After starting with one truck and one employee, the men have added seven routes in Nebraska and Wyoming.
Last year, Battershell provided assistance in setting up Quick Books accounting for the men's businesses. She also provided cash flow projections for Schlothauer when he invested in a Gering tavern, the Rompus Room.
"Ingrid has been a lifesaver for us," Schlothauer says. "She helped us understand things and she always looks at the big picture. There is so much involved with starting a business, and she is always there to remind us of things we couldn't afford to forget. The most valuable help we've had was Ingrid."
He says NBDC's office in Scottsbluff is a resource for the entire region. "Anybody I talk to who's thinking about starting a business, I tell them the first place you need to go is to see Ingrid."
As a service to the community, Docu-Shred hosts free shredding days for individuals with small boxes of confidential documents they want destroyed.
"John and Doug are true entrepreneurs," Battershell says. "They devote full time to their businesses and are always looking for other opportunities to invest.
Schlothauer says he and his business partners keep in contact with Battershell. "We stay in touch because we enjoy working with her so much," he says. "Plus, we're not done doing what we want to do."