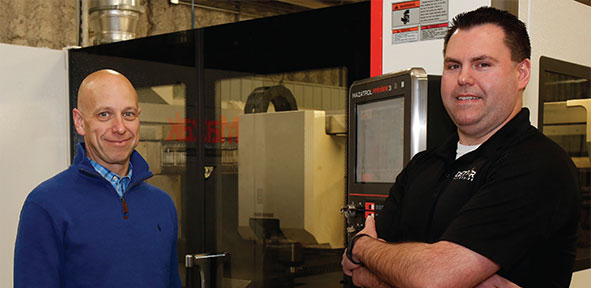 Darin Ditter was a partner at a design and fabricating business in Columbus and his brother, Cory, was the sales manager when they approached Loren Kucera, consultant at the Nebraska Business Development Center office at Wayne State College.
"We had met Loren the previous year, when the state conducted a tour of our plant," Darin Ditter recalls. "Also, a good friend of ours who owns a different business recommended him."
The brothers originally intended to purchase the design business from the other partner and sought Kucera's expertise.
"When we first started talking to Loren, we wanted to work on a business plan and financial structure so we could present it to a bank to obtain financing to acquire the other half of the business we were at," Ditter says. "But, instead of purchasing the other owner's share, we ended up selling my half to him. That's when we decided to start our own company."
Once the sale of his share was complete, the Ditter brothers began planning their own business, DiStar Industries again enlisting Kucera's assistance and advice.
"At that point, I started to work with Darin and Cory on a business plan with financial projections," Kucera says. "Initially, I brought several financing agencies to the table and, along with a bank, we were able to assemble a financial package to start DiStar Industries. In February 2015, four different agencies plus a commercial bank approved loans. Counting their own capital injection, the total project cost exceeded $2 million."
Today, DiStar Industries provides quality service and products to the medical, food service, commercial construction, agriculture, transportation and manufacturing industries. Ditter says he and his brother have invested in technology and modern, productive equipment to perform multiple operations and provide turnkey solutions.
In the summer of 2016, the brothers contacted NBDC again. "Their business had grown so rapidly they needed to double their building to accommodate their employees and increase efficiencies in their operation," Kucera says.
DiStar Industries currently employs nine people. "We are highly skilled at custom fabrication," Cory Ditter says. "Really there's nothing we can't tackle. Thankfully, there is a lot going on in Columbus. Though we sell nationwide, I'd say 75 percent of our business comes from a 100-mile radius."
Many of their customers are also longtime friends, Darin Ditter says. "They know us and know our work because we've been in this business close to 20 years, including the first company we were at," he says.
Cory Ditter says he and his brother "are blessed" to be part of a tight-knit community with so many resources, including Kucera and NBDC.
"When you start your own business, there are always questions and things you don't understand," he says.
"Loren had the answers and always got back to us without delay. We were fortunate enough to have orders and commitments even before we opened our doors, so we had to meet a very tight schedule. Loren was instrumental in making that happen."