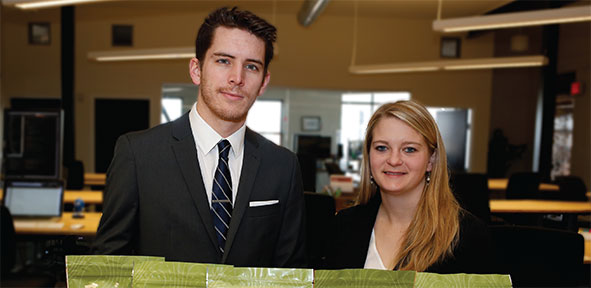 Bugeater Foods has tapped into an old name to mine new interest in crickets as a protein additive to human foods.
When the company needed research and guidance for its application for a Phase I Small Business Innovation research (SBIR) grant from the National Institute of Foods and Agriculture, a department of the U.S. Department of Agriculture (USDA), it called upon the Nebraska Business Development Center (NBDC) and its technology commercialization team.
Founded in 2015 by Kelly Sturek, Julianne Kopf and Alec Wiese, all former students at the University of Nebraska-Lincoln, Bugeater Foods takes its name from that of the university's original football team.
The company's first product was a protein shake called — appropriately, considering the cricket additive — Jump. Most recently, the trio has been working on using cricket powder as an additive to pasta and rice products.
In 2016, the director of NBDC's technology commercialization program, Wei Jing, provided expertise as Bugeater assembled its application for the USDA grant. Ultimately, the company was awarded $100,000 to develop crickets as safe, healthful staple food products and to refine their taste.
The Nebraska Department of Economic Development partially matched the grant with an additional $65,000.
Participation in the Lincoln accelerator program NMotion brought a $20,000 investment in exchange for some equity in the company. Sturek, who serves as Bugeater's CEO, and his partners also invested funds they had won in business plan competitions. He hopes the company will eventually obtain a Phase II grant and an additional $600,000 to develop and manufacture commercial-ready products.
"Wei has been very helpful as we proceed," he says. "When we put together our commercialization plan, we needed the numbers and data she has been able to provide. She has also assembled market research reports on insect-based products, and it's nice to have a strong sense of the history and the other players in the market."
Sturek studied entrepreneurship at UNL and gained knowledge in business development with a focus on sales, marketing, team leadership and fundraising. Kopf, who serves as the COO as well as the company's food scientist, works at the UNL Food Innovation Center. Wiese studied economics at UNL and handles the company's website as well as product packaging and marketing materials.
Jing lauds Bugeater Foods for incorporating environmental sustainability as a strategic business value.
"They do this by adding a product into the human food chain that reduces the energy intensiveness of current protein production and provides a less expensive protein source available for production in any climate," she says.
"Bugeater Foods is a great example of the many companies developing new products and technologies here in Nebraska."
Sturek says NBDC is a valuable resource for new and innovative companies like his. "As a startup, it's great to get help in the form of market research reports or to have someone who is experienced leading you through the steps of federal grant applications," he says. "That gives us the time to do the other things we need to do to be successful."