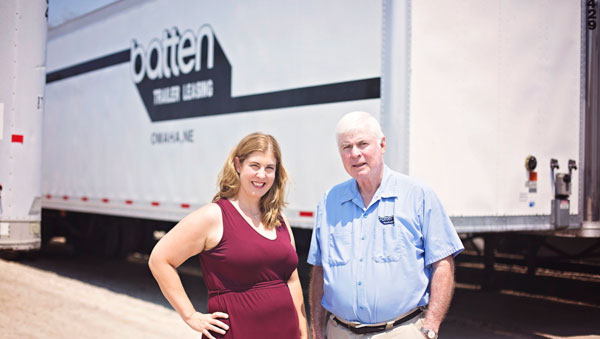 Offutt Air Force Base was facing a need for storage space, and with the help of the Procurement Technical Assistance program at the Nebraska Business Development Center (NBDC), Batten Trailer Leasing, Inc., of Omaha filled that need.
Ashley Batten, general manager for the company founded by her father, Blaine, says Offutt contacted her about trailers to satisfy their temporary storage needs during a major renovation project at the Bellevue air base.
"We had worked with Offutt in the past, supplying a trailer for two weeks during the annual air show," Batten says. "This time, because it was for such an extended period, they said we needed to apply for the contract. They recommended we get in touch with NBDC."
Batten worked with NBDC Counselor Mary Graff to establish a SAM (federal System for Award Management) registration for the trailer company. "She was super helpful getting our application in," Batten recalls.
Her father began his trucking career as a salesman for Werner Enterprises. He started his own company in the mid-1980s, and incorporated the business in 1997 when it moved to its current Omaha location, where it has nearly 500 trailers that it rents or leases to business throughout Omaha and the region.
"We have customers across a wide variety of industries," she says. "We have trailers for storage or over-the-road that we rent for one day or a year or longer."
The company is continually modernizing its facilities and has expanded to include a three-bay maintenance shop.
Batten Trailer Leasing was awarded the contract to serve Offutt's needs in August 2016. "It lasted two years, and they have the option to expand it up to 10 trailers and extend it up to three years," Batten says.
She applauds NBDC for the expert advice it provides Nebraska businesses. "It was our very first government contract, and Mary set us on the right path," she says. "Without her, we'd have been completely lost. I would have had no idea what to do or what was required."
The two keep in touch as other needs arise. "After we got the contract, she showed me how to submit the invoices using the electronic Wide Area Workflow (WAWF) e-Business Suite," Batten says. "Getting the contract is great, but you've got to be able to get paid for it."
Our Campus. Otherwise Known as Omaha.
The University of Nebraska does not discriminate based on race, color, ethnicity, national origin, sex, pregnancy, sexual orientation, gender identity, religion, disability, age, genetic information, veteran status, marital status, and/or political affiliation in its programs, activities, or employment. Learn more about Equity, Access and Diversity.
scroll to top of page