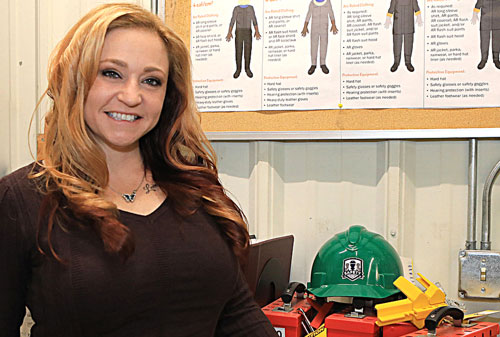 By Emily Kerr
Keeping people safe is a priority for any business, but in Keri Talcott's line of work, it can be a matter of life and death. As a safety consultant for CRB Builders managing engineers and contractors, "safety is doing the right thing all the time," she says. With hazardous conditions like working at great heights, everything must be done by the book. "Safety is a movement," Keri says, "one needs to stay proactive in their processes to ensure that no one gets hurt." By embodying the changes she wants to see, she has been the catalyst of a cultural shift in her time with the companies she partners with.
Recently, Keri completed her Certificate in Safety Leadership through the Nebraska Business Development Center (NBDC). "I don't get a lot of opportunities for training anymore, so the ones that I do I am careful to pick and choose," she says. The leadership course taught her conflict management, how to manage different styles of people, coaching, and managing change. "All these topics are extremely important as you manage people and their safety on a daily basis," she stresses, because "you need to understand how to reach people both in the field and upper management." The course left her feeling inspired, to continually ask herself, "what can we do better?"
Before her career in construction, Keri worked in healthcare safety. After taking her Emergency Management Training during her time at Immanuel Hospital, she was prepared to handle every part of a hospital's needs including safety, emergency preparedness, biomedical equipment, utilities, hazardous materials and waste, and security. She also attained her qualifications as a Certified Healthcare Safety Professional while working there, and soon, Lakeside Hospital scooped her up as their Safety Compliance Specialist. Reporting to the COO of the hospital, it was her responsibility to facilitate a committee composed of doctors, nurses, and operating directors, who each oversaw 300-400 staff. Looking back, Keri wishes she could have taken the Leadership course through the NBDC during this time, as she was managing and supervising so many kinds of people day to day.
Training nurses for disasters was one of Keri's most important jobs. She recalls, "I taught them how to use med sleds and go down four flights of stairs with bedridden patients or geriatric patients," in the case of power failure during an emergency. She explains, "I would open their eyes to things they had no idea about," including epidemics, natural disasters, and even terrorist attacks.
Transitioning from medicine to Kiewit Construction, Keri had to deal with change as the only female employee in her division. Working in a male dominated industry, she made strides to stay consistent and gain the respect of her peers. After obtaining her various certifications, including Construction Safety and Health Technician and then Safety Leadership through NBDC, those around her really started to listen. These credentials, especially her Safety Leadership training, ensured she would be able to work with people with all personality types. Thanks to all her hard work and dedication, businesses need not worry about hazardous work conditions; they are safe in Keri's hand