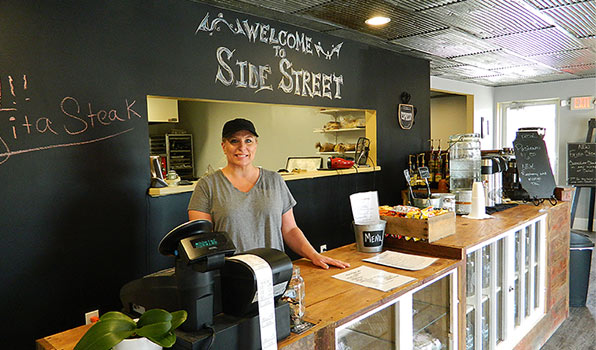 Consultant's Expertise Helps Deli Get Cooking
 After years of hearing people rave about their barbequed meats and suggest that they open a restaurant, Melody Johnson and her husband, Jay, have done just that. But before they could fire up the smoker, they sought the expertise of Sara Bennett, associate director of the Nebraska Business Development Center (NBDC) office at the University of Nebraska at Kearney.
Bennett assisted with the development of a business plan and loan package for a deli and catering business the Johnsons wanted to start in Central City. "They needed working capital for start-up expenses and to purchase signage, furniture, fixtures, equipment, supplies, and inventory," Bennett says. "They also needed to purchase a building and conduct necessary improvements."
After helping the Johnsons understand the elements necessary to open a restaurant including licenses, permits, and insurance, Bennett then assisted them with the completion of the business plan and financial projections. As a result, the couple were successful in obtaining a loan from their local credit union. They also invested their personal funds, and in August 2016, opened the doors to Side Street Deli and Catering.
Side Street is a deli-style restaurant featuring pastries, breakfast burritos and sandwiches in the morning, with salads, wraps, and sandwiches for lunch. Specialty drinks include coffees, lattes, cappuccinos, and smoothies.  The catering menu offers ribs, brisket, and pork loin, plus many other meats and side dishes to feed any number of people.
Prior to opening the restaurant, Melody Johnson worked 26 years as a medical assistant in a physician's office. Jay is a diesel mechanic who has participated in numerous barbeque competitions.
Melody says she and Jay were accustomed to cooking for other people all the time. "They'd get one taste of our barbeque and tell us, 'You should open a restaurant.' I finally decided it was time to do something different."
She says Bennett began with a step-by-step process and walked them through the different requirements of obtaining financing and marketing their concept.
"Without her expertise, it would have set us back a long ways," Melody says. "She started us at ground level, showed us examples of other restaurants she had worked with, even the wording we needed for the documents. We didn't know any of that."
Side Street Deli is open Monday through Saturday, from 7 a.m. until 2 p.m. There are two full-time and two part-time employees.
While Melody handles the bulk of the cooking and the daily operations at the restaurant, Jay assists with the catering and helps in the mornings before heading to work at RoadBuilders Machinery & Supply in Grand Island.
"We have a lot of people who come in every day for coffee and other specialty drinks," Melody says. "They'll walk in the door and just say, 'the usual.' Sometimes, they'll pull up and we start fixing it."
And, if any customers inquire about starting up a business, Melody has some advice to go with their lattes. "I would definitely recommend Sara and any of the people at NBDC," she says. "In fact, I have sent other small business owners her way."
Our Campus. Otherwise Known as Omaha.
The University of Nebraska does not discriminate based on race, color, ethnicity, national origin, sex, pregnancy, sexual orientation, gender identity, religion, disability, age, genetic information, veteran status, marital status, and/or political affiliation in its programs, activities, or employment. Learn more about Equity, Access and Diversity.
scroll to top of page