Pint Nine Brewing Company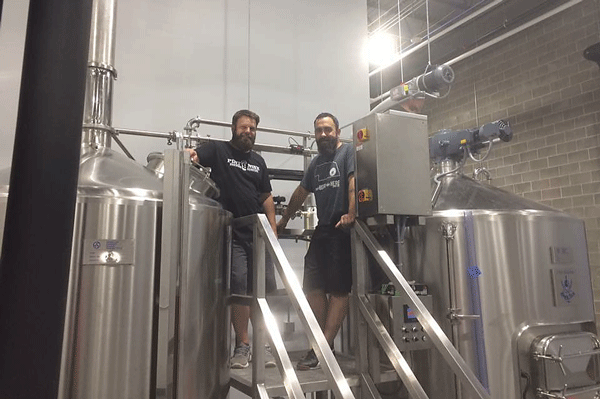 James Watson started as a home brewer, as so many beer lovers are. It was his passion for the craft, however, that drove him to pursue a career in owning the Pint Nine Brewing Company, and after years of honing his craft and a bit of help from the Nebraska Business Development Center (NBDC), he would turn that dream into a reality.
After attending the University of California at Davis' Master Brewer's program, James worked as the master brewer at both Upstream brewery locations, as well as the Empyrean Brewing company. The information and experience he learned at each location was tantamount to launching his own business. Starting with nothing but walls and a dirt floor, James and his partner Denny Hynek set about building their dream brewery from scratch. Having both been tradesman in the past, they did as much of the labor as the contractor would allow, which, according to James, "saved money to put back into some of the fancy stuff we wanted." Their location in La Vista, just across the street from a neighborhood and trampoline park, hosts a "Mug Club" each year, as well as various beer pairing events that have even featured girl scout cookies! To find out more about their special events, visit www.pintninebrewing.com.
Opening its doors in 2017, Pint Nine Brewing Company was four years in the making during the planning process. Using the Nebraska Business Development Center as a source, "I used them to set up the numbers for the plan that we were doing, but the benefit for me was that it put everything into a usable form that I felt comfortable with showing people, and having other people take a look at," says James. The cohesive strategies that the NBDC used allowed James and his potential investors to see projections of growth, which eventually gained the confidence of investors enough to start their business. Including a cost-benefit analysis, the Center brought them as many logistical numbers as possible. James says, "they were able to set up and run the numbers through projections to show where and how our money would be spent." The cost of hops, wheat, and other essential elements were taken into consideration as well to calculate the cost versus the amount of beer they could yield with every batch, thus figuring the profit margins for the company. James explains, "they were able to put it into a system that showed exactly what I needed from the numbers I was trying to work with."
Scott Mills at the NBDC, especially, helped in the beginning of Pint Nine. "They were getting me through the business plan. I knew pretty much what the numbers would mean, but getting it solidified in a package makes it presentable and easier to understand. That's what I got the most help with when I got there." Scott was able to assist James by plugging numbers into his system to figure out what costs were worthwhile for the budding business, and which were not. Going back and forth for just about a year, James attributes his success in gaining immediate investment for his business to the NBDC.