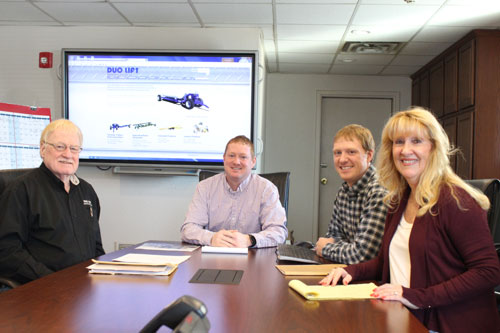 Hellbusch family: Jim, Ben, David, Connie
Valuable advice to Duo Lift Manufacturing Co., Inc., from the Nebraska Business Development Center (NBDC) is proving that even a 75-year-old company can learn a few new tricks of the trade when it comes to government contracting.
Primarily a trailer manufacturer for the agriculture industry, Duo Lift was facing a slump in the market in 2015 due to lower corn and soybean prices. That is when Dick Uhing, Procurement Technical Assistance program consultant at the NBDC office in Wayne, contacted the Columbus manufacturer.
Uhing suggested the company refine its ongoing search for available government contracts by completing a System for Award Management (SAM) registration, as well as registrations for the online government database BidMatch and Proxity.
"Dick explained that his priority was to assist our company in finding additional contracts in the online procurement marketplace that best suited our capabilities," says Connie Hellbusch, who co-owns Duo Lift with her husband, Jim.
The following year, with assistance from Uhing and NBDC, Duo Lift completed approximately $200,000
in government contracts. In 2017, that total rose to $1 million.
Duo Lift in 2013 had completed a 40,000-square-foot addition, boosting its manufacturing facility to 102,000 square feet. The company also added a second paint booth, robotic welders, new laser cutting table and computer numerical control (CNC) lathe equipment, "so the opportunity for additional government contract work was timed perfectly," Hellbusch says.
"We had attempted to look for more government contracts on our own but we were not as successful as we wanted to be," she says. "Dick gave us the information we needed to pinpoint the work we are interested in doing. He showed us how to use it, and mentored us along the way."
Duo Lift was founded in 1943 by Arthur Hellbusch, a farmer who as a hobby had built a wagon lift in the family's milk barn. He designed a mechanism to slide between the wagon box and running gear, which, through a series of pulleys and cable, lifted the wagon box and allowed grain to be emptied out the back.
In the early 1950's, Arthur Hellbusch designed and manufactured a trailer to transport irrigation pipe to and from the field, and to store the pipe during the winter. The trailer became so popular it is still in production.
After graduating from the University of Nebraska, Jim Hellbusch, Arthur's son, joined the family business in 1969 with the desire to grow the company beyond what his father accomplished after a long day of farming. Placing the emphasis on manufacturing, Jim began designing and building trailers. Later, he expanded the line of agricultural equipment and trailers for the fertilizer industry, and added trailers for all types of machinery, irrigation engines, automobiles, and snowmobiles.
Art Hellbusch retired and Jim became company president in 1981, the same year Connie joined the company. Today, Duo Lift has 65 fulltime employees.
Along with its agricultural trailers, Duo Lift produces a variety of commercial and industrial trailers that could be attractive to state and municipal agencies, including trailers that hold high-beam lights or portable generators, and salt brine production systems and anti-ice tank trailers.
"We feel there is more potential government business out there, and Dick has made finding it possible in a most efficient way," Connie Hellbusch says. "That's why he's on speed dial."