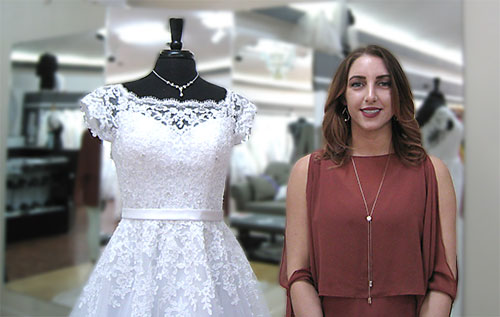 When Chelsea Wilson made the decision to turn something old into something new, she borrowed the advice of her banker and sought the services of the Nebraska Business Development Center (NBDC) office in Scottsbluff, and now she is anything but blue.
The business she wanted to purchase, A Bridal Affair, had been around for perhaps four decades. She approached a local bank about a loan to buy the retail shop last fall and was directed to the NBDC office for help writing a formal business plan.
"I haven't owned a business before, so this was all a new adventure for me," Wilson says.
She worked with NBDC consultants Ingrid Battershell and Margaret Akin to assemble the financial projections and other particulars she needed for her business plan. She says Battershell was familiar with the bridal business, having provided NBDC services to the previous owner.
Battershell and Akin assisted with the completion of financials, including a sources and uses of funds statement, assumptions, cash flow projections, and pro forma income statements and balance sheets. They helped Wilson determine how much she could afford to offer for the assets. The consultants also discussed the impact accounts receivable will have on the cash flow, provided counseling regarding the advisability of purchasing the inventory the seller had on hand, and offered general counseling regarding the purchase agreement and contingencies.
"Basically, they helped me get the backbone of my plan together so I could make my presentation to the bank," Wilson says.
Wilson was approved for the loan and in September purchased the business and its assets from the previous owner.
Under Wilson's direction and with the help of two part-time employees, A Bridal Affair sells wedding dresses, attire for bridesmaids and groomsmen, dresses for the mother of the bride, prom dresses, tuxedo rentals, and accessories.
"It is going really well," she says. "It started off slow. People didn't know there was new ownership, or that we had extended our hours."
The previous owner was only open Thursday through Saturday. Wilson increased that to Monday through Saturday.
She has also begun making some much-needed repairs and cosmetic improvements to the building and the retail space. "We're just entering our busiest season and we are very excited about all the interest we've been generating," Wilson says.
Based on requests from potential customers, she is considering expanding her inventory to include high-quality men's fitted shirts. "There aren't many options locally right now," she says. "I am responding to the market as best I can."
Wilson is confident her relationship with the NBDC office is one that will last.
"They do a great job," she says. "They're always full of good information, and made it clear early on that there is no such thing as a stupid question. They're very welcoming and willing to accommodate meetings when they fit my schedule.
"Margaret is good about checking in on me," Wilson says, "and I have sent people her way who are interested in pursuing business opportunities."