ISSUED: (Tuesday, January 22, 2019 5:00 AM)
UNIVERSITY CLOSURE INFORMATION
All on-campus classes and activities for January 22, 2019 have been canceled. Online classes will continue as scheduled as they are delivered digitally and can be accessed without travel to the UNO campus.
More Information
CLOSE

X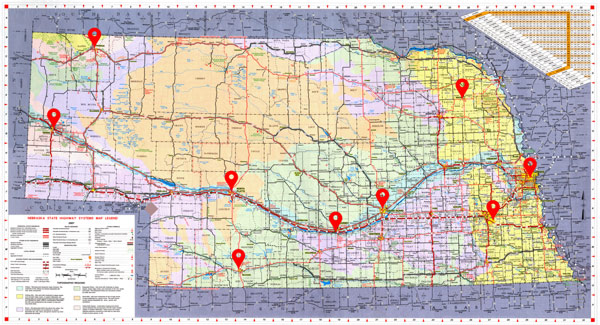 Chadron State College
1000 Main Street
(lower level of Burkhiser Technology Center)
Chadron, NE 69337 
308.432.6282 
---
309 W 2nd Street
Grand Island, NE 68801
308.382.9210 Ext 19
---
University of Nebraska at Kearney
West Center Bldg. Room 127E 
1917 W. 24th Street
Kearney, NE 68849-4440
308.865.8344
---
University of Nebraska-Lincoln
Nebraska Innovation Campus
Innovation Advancement Suites
2021 Transformation Drive, Suite 1250 C
Lincoln, NE 68508
402.480.6845
Procurement Technical Assistance
Southeast Community College Entrepreneurship Center
285 South 68th St. Place Suite 209/210
Lincoln, NE  68510-2449
402.323.3626
---
Mid-Plains Community College Building
1101 Halligan Drive
North Platte, NE 69101
308.340.0422
---
Keystone Business Center
402 Norris Ave Room 316
308.340.0422
---
University of Nebraska at Omaha
College of Business Administration
Mammel Hall, Suite 200
Omaha NE 68182
402.554.2521
---
Panhandle Research and Extension Center
4502 Avenue I
Scottsbluff, NE 69361 
308.635.7513
---
Wayne State College
Gardner Hall 
1111 Main St.
Wayne, NE 68787
402.375.7575
Our Campus. Otherwise Known as Omaha.
The University of Nebraska does not discriminate based on race, color, ethnicity, national origin, sex, pregnancy, sexual orientation, gender identity, religion, disability, age, genetic information, veteran status, marital status, and/or political affiliation in its programs, activities, or employment. Learn more about Equity, Access and Diversity.
scroll to top of page