NCITE's first alumni describe new paths
NCITE graduates have gone on to work in government, academia, and industry. Hear from two!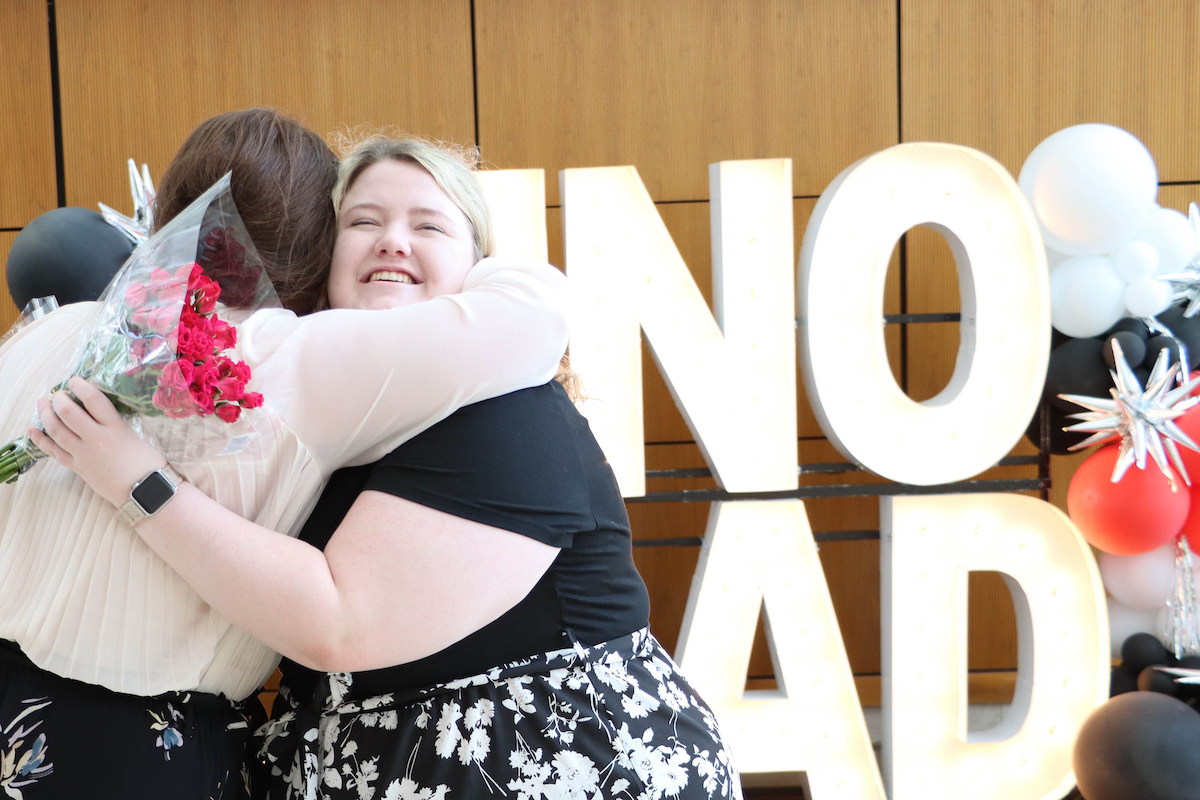 NCITE criminology doctoral student Clara Braun hugs Alexa Callahan, who graduated from UNO in May to pursue a doctorate in criminology.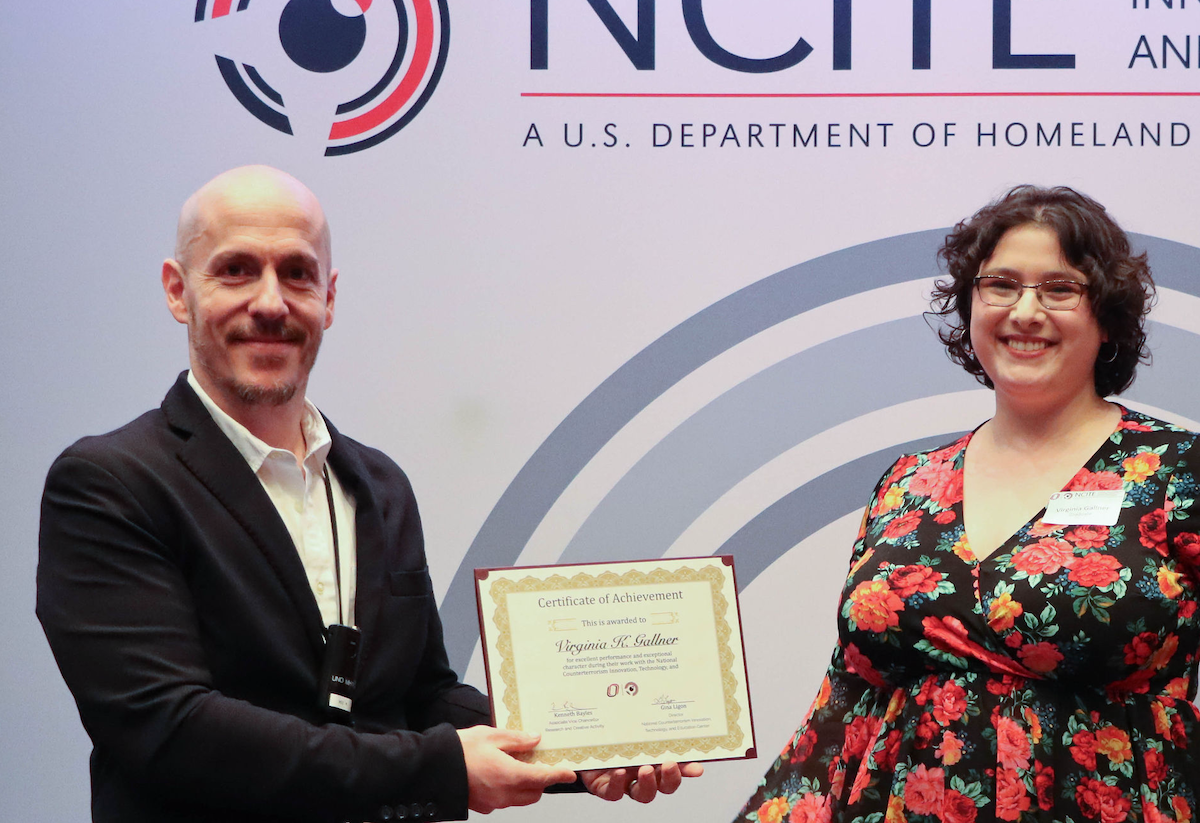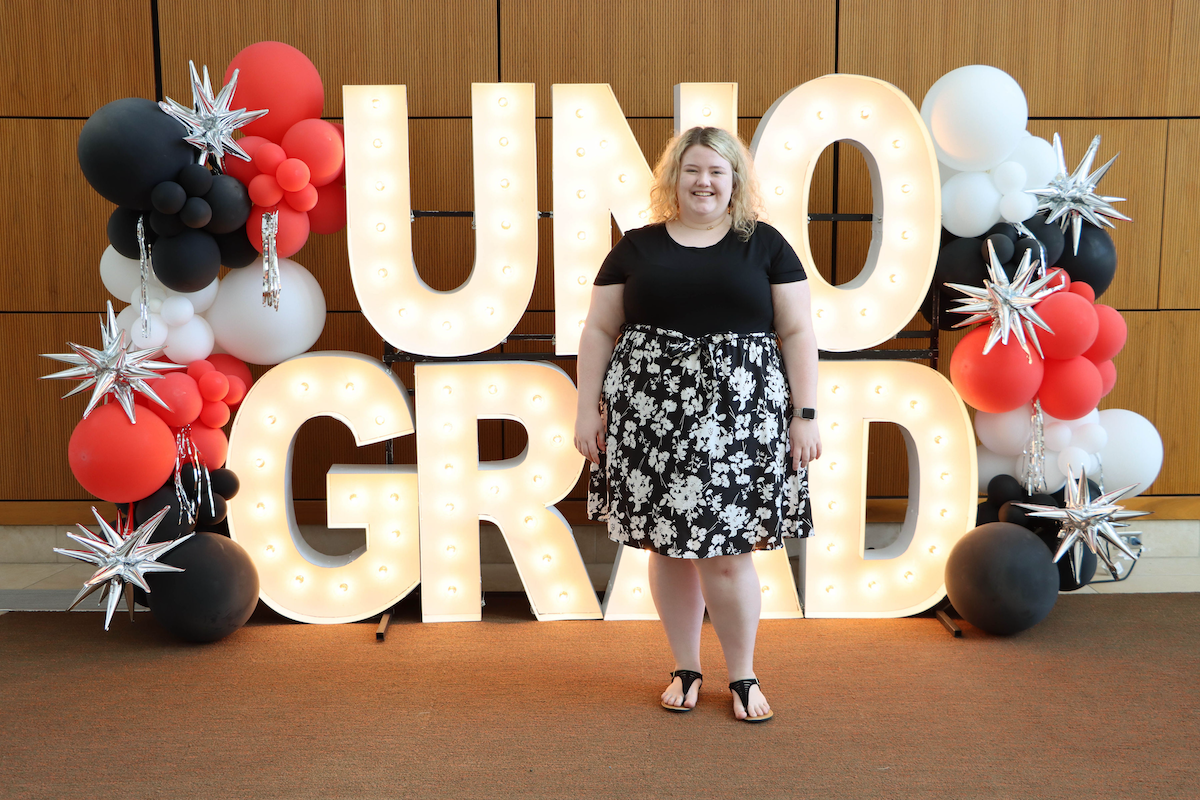 By Eva Burklund, NCITE student
Since saying farewell to UNO and NCITE in May, the first cohort of NCITE alumni have moved on to an array of careers in business, government, and academia. Two NCITE alumni, Alexa Callahan and Byron Moore, have entered vastly different fields after graduation.
Callahan, who just completed her bachelor's degree in psychology, will begin a Ph. D. program at Sam Houston State University.
"I am just going full steam ahead straight into my Ph.D. which is kind of intimidating," Callahan said. "I had people tell me there's no way that you'll get into a Ph.D. program . . . But what Dr. (Gina) Ligon had said to me and (fellow graduate) Virginia Gallner, said to me, was you've been doing graduate level work this entire time. You are as good a candidate as anyone else."
Despite how intimidating it was to apply, her time at NCITE helped her get into a program in the clinical psychology program with a forensic emphasis.
"I think people seeing that I was a part of NCITE, people seeing that I had all these cool opportunities like presenting to the FBI and working with all these different faculty and students, and even at the grant proposal getting to meet some really important people, I think that kind of made people take a second look at my application," Callahan said.
Moore also decided to take an unconventional path, choosing to move to Slovakia and create a tool helping people to build a profile in Web3, a potential future version of the worldwide web.
"Most of my days I'll code out a prototype for the startup, have meetings with other founders on the team . . . outreach kind of stuff," Moore said. "What I enjoy most about it is that it's up to my vision to choose where to go, what needs to get done, and how to do it. That's always a fun challenge to see where that goes."
Despite the challenges of creating a product from scratch, building a tool to help people express themselves and humanize identities online is exciting to Moore.
"I'm excited to launch the product then have people using it and then be proud of it," Moore said. "I've had various school projects where you write a paper or whatever you do, you finish it, and you get a grade and then you move on. I'm excited most about having to build it and then it doesn't just end there. There is a larger life cycle, and it just keeps going. Having to do something that may provide value in the future as opposed to being a one-off thing is what I'm excited about."
As Moore tries to cut costs, he has had to use a variety of skills to effectively communicate his vision, including some he learned from NCITE
"It was learning how to communicate and express complicated ideas through some of the work we did with the communications team," Moore said, of his time at NCITE from 2020 to 2022. "It's pretty valuable and something I still need to work on. I've always done graphic design stuff but continuing to practice with NCITE has been helpful."
Moore cited the public speaking part of his work at NCITE as instrumental to helping him now.
"My senior year I would have to stand out there and talk to people and it made me anxious but it's good to practice it," he said. "It's been beneficial towards times I've had to pitch or talk about what I'm trying to do."
As Callahan moves forward, she plans to do forensic assessments, further research why people perpetrate violence, be an expert witness in a courtroom, and then branch into academia where she hopes to mentor students to give back to the place where she was supported- using the connections and experiences she got from NCITE.
"It's a very bittersweet feeling because I've made so many friends and so many connections. I have so many colleagues and mentors that it's going to be hard to leave behind but I also know that we are still connected," Callahan said. "This is still a network of people that I can go to if I should ever need it, and I know that we'll be collaborating going forward."
With the graduation of the first cohort of NCITE students comes an influx of new students looking to hone their skills and passions with advice and mentorship from more experienced students.
"Really try to focus on learning a new skill or learning multiple new skills that you find interesting and will be valuable," Moore said.
Callahan's advice?
"Take advantage of every opportunity," she said. "You have to be a self-starter. You have to chase the things that you want to do and find the people that you think can help you do that, and at NCITE especially, there are so many people who are willing to help you and want to see you grow."