Is someone mobilizing to violence?
There can be a trail to violence all too apparent after the act. But the federal government provides resources to help spot signs, called indicators, that someone might be ready to commit violence. And NCITE has created an explainer doc, an interactive pdf with links to resources that can be downloaded.

In an act of domestic terrorism, an 18-year-old New York man shot 13 people, killing 10. Eleven of the victims were Black. The May 14, 2022, mass shooting is what the federal government calls Racially and Ethnically Motivated Violent Extremism (REMVE), one of the deadliest kinds of terrorism. The shooter, who is white, is alleged to have detailed race as a driver to committing violence.
In the wake of the attack, NCITE mapped the alleged shooter's behavior with the federal government's latest edition of its U.S. Violent Extremist Mobilization Indicators. The attached explainer document has been shared with law enforcement and other NCITE partners.
It can be hard to explain the unexplainable: why the alleged gunman, so full of anger and hatred, would take innocent lives. NCITE prepared this tool in hopes of sharing government resources that might not be widely known and thereby preventing more violence.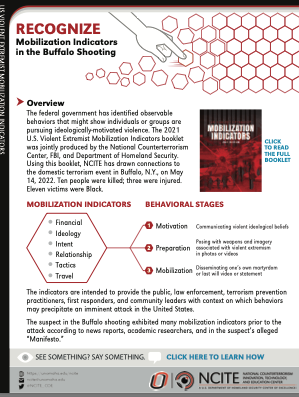 Click the PDF to read the important content.