Spotlight: NCITE board member Rik Legault
DHS criminologist Rik Legault brings a rich background to service as an NCITE board member
published: 2021/01/19
contact: NCITE Communications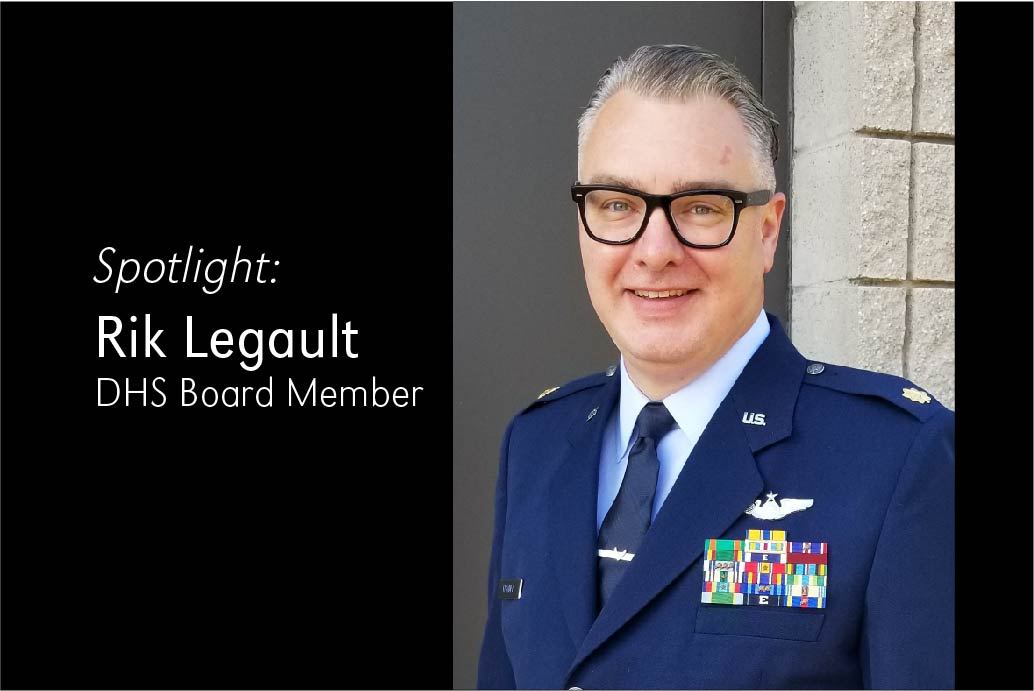 Rik Legault has a lot of titles.
Criminologist. DHS S&T senior advisor. NCITE board member. U.S. Navy veteran. U.S. Air National Guard medic.
This last title will take Legault from the D.C. area to California for four to five months.
Starting in January, Legault will command a unit at Travis Air Force Base that will transport seriously ill Americans suffering from COVID-19 who are stranded overseas or in rural U.S. areas to urban hospitals where they can get treated. The U.S. Air Force has outfitted specialized isolation units on cargo planes, prioritizing U.S. military service members first and others as the unit can handle.
It's just the latest way that Legault is working to keep Americans safe.
Like many in the relatively young Department of Homeland Security, Legault's career path began somewhere else. In his case, the son of French-Canadian immigrants began his career on a ship.
Legault (pronounced Le-GO) served as a Navy mechanic in the Persian Gulf during Operation Desert Storm. While on patrol in the Red Sea, the bilingual Legault was tapped to help a multinational maritime group because he could speak French. Downtime in the ocean in the pre-smartphone era, gave him time to read, as he put it, "voraciously." He left the Navy after six years, and went to college at age 24, studying sociology and political science.
Legault also then joined the New York Air National Guard. He was both medic and student, completing graduate school at the University of Albany in New York, where he got his doctorate in criminology.
Legault taught criminal justice. A National Science Foundation and DHS research project placed him at a then-new DHS Center of Excellence (COE): the University of Maryland's Study of Terrorism and Responses to Terrorism (START) Center, where he did post-doctoral research.
In 2009, Legault went to work for DHS in the Science & Technology Directorate. There he has worked to bolster social sciences capacity in preventing terrorism. Legault's role is to help give advice, shape policy, and help lawmakers address big questions about countering terrorism and targeted violence.
DHS has evolved since its creation. So has the collective understanding of terrorism, as previously and loosely defined as outsiders seeking to hurt the U.S. But the original question remains the same: What to do about it to keep Americans safe?
Finding an answer is a constant challenge, Legault said. Science, by its nature, lags behind rapid societal changes and reactions. Government, too, Legault said, moves slowly.
That makes dealing with a changed threat landscape in which "terrorists," who could cause harm inside the U.S., are likely to act based on personal grievances as well as religious, political, or ideological motives. Instead of being trained at some camp, they might be radicalizing from their smart phones or homes, consuming vast amounts of online information that shape their opinions and potentially their actions.
This makes the threat all the more vexing and much harder to counter.
That's why Legault sees the social sciences as so vital in understanding who the aggrieved are, how their behaviors and thoughts get shaped and radicalized online, particularly by misinformation and disinformation, and how to stop them from taking violent action while maintaining the cherished individual rights enshrined in the U.S. and western democracies.
"This is a real and difficult problem to address," Legault said.
The problem is made even harder following one of the most difficult years the U.S. has experienced with the COVID-19 pandemic and politicization of public health, the bitter presidential election, and the entre of once-fringe ideological groups and social media outlets.
COEs therefore become an even more important resource because researchers can deep-dive into thorny problems, he said. Legault sees great potential in increasing collaboration between COEs like the National Counterterrorism Innovation, Technology, and Education (NCITE) and DHS. With the University of Maryland's START and the University of Nebraska at Omaha's NCITE, Legault sees complementary roles and plenty of work for all hands.
"The more people that are intrinsically motivated to seek complex problems and solutions that broaden the access (to research), the better off we are," he said. 
Legault's military, academic, and government titles place him in a unique position to serve as translator, connecting these various sectors to the singular purpose of countering violence. 
He's not daunted by the difficulty. 
His past has taught him that big problems aren't neatly solved by big solutions but are rather a series of smaller problems that can be met with more targeted approaches by asking questions like: How might we make people a little more resilient to disinformation? How do we give people the tools and equipment to not buy into things that aren't true? What types of individual interventions are effective for a young person being inspired by violence?
"It's a lot of little specifics," he said.
Legault believes NCITE can help drill into those. He wants NCITE to be successful and will have a role in that success most directly as board member. His other titles connect around the mission of safety. The one that will take immediate priority now is Unit Commander.