UNO IT Grad Students Will Innovate in 2020 NCITE Cohort
published: 2020/10/06
contact: NCITE Communications
One group of graduate students in IT Innovation (ITIN) at the University of Nebraska at Omaha just kicked off its 2020 cohort year.
These master's degree students will focus on creating innovative technology solutions for the Homeland Security Enterprise (HSE). Every ITIN student is required to have an Innovation Area of Emphasis, which serves as the domain in which they are innovating.
They are being led by Doug Derrick, NCITE director of Innovation and Transition.
"Our expectation for you as fellows is to develop new innovations in the field of counterterrorism that will continue to be used by Homeland Security even after you graduate," Derrick said at the ITIN Fellows' kickoff meeting in September.
First-year Brandon Lai is focused on human collaboration and human-computer interaction (HCI). HCI is concerned with the joint performance of tasks by humans and machines and human capabilities to use machines. He said UNO ITIN professor Jeremy Baguyos inspired him to pursue the field.
"I hope to enable other industries that could rely more on the power of collaboration," said Lai.
Sue Yi, a second-year ITIN student, studies data storytelling, team psychology, political science, and linguistics and rhetoric. She currently works alongside NCITE Principal Investigators Martha Crenshaw of Stanford University and Iris Malone of George Washington University on new ways to visualize militant group relationships.
"I hope working on this project will become a long-term partnership after I earn my degree," said Yi.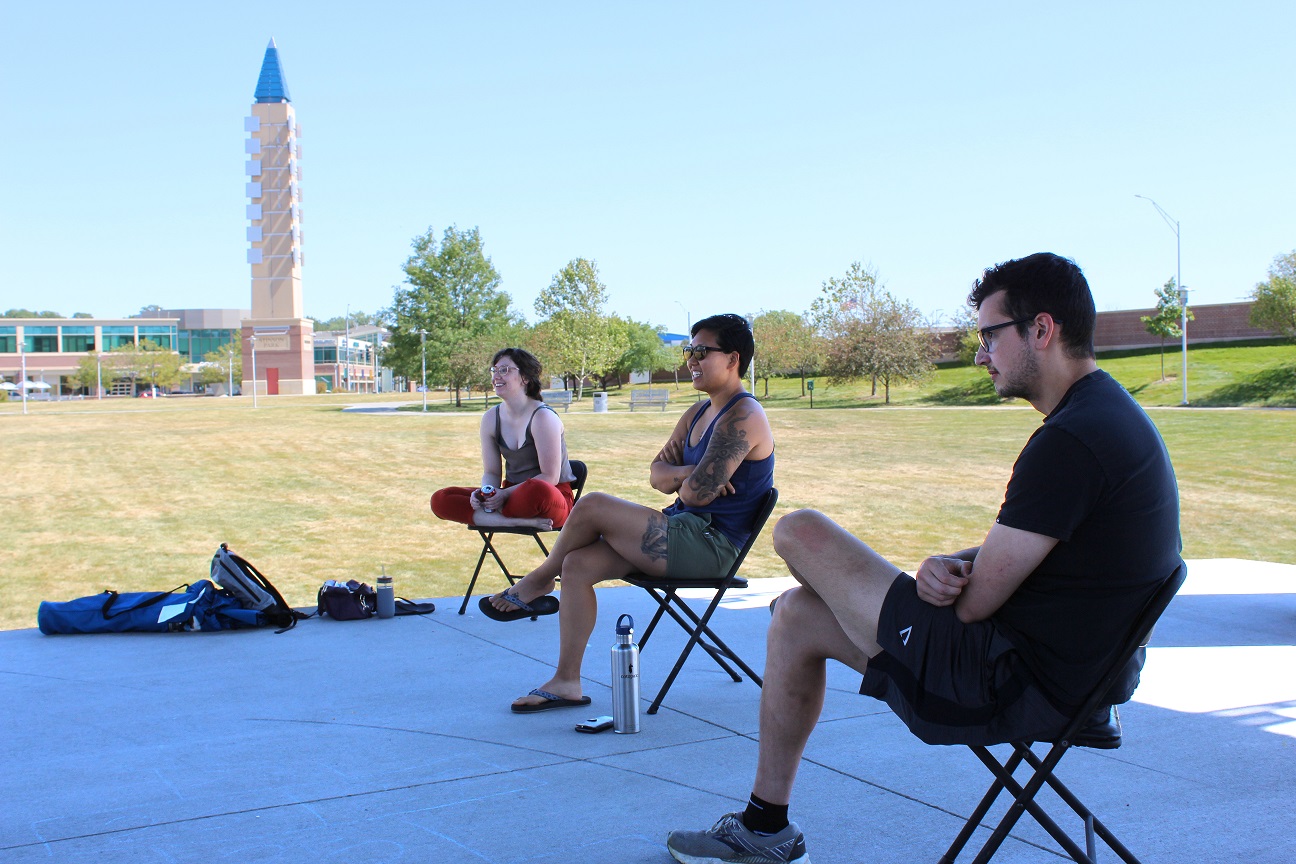 I hope to enable other industries that could rely more on the power of collaboration.
- Brandon Lai
Khylie Kight's work focuses on data visualization, user interface, and user experience designs of counterterrorism devices.
"Effective design solutions are especially important when communicating complex data," said second-year Kight. Kight currently is working alongside Derrick, studying communication theories for the counterterrorism field.
Despite being a first year in the IT Innovation program, Lauren Zimmerman has been working with Derrick and NCITE Director Gina Ligon for nearly three years. Zimmerman is interested in U.S. national security and is currently working on a UNO Graduate Research and Creative Activity (GRACA) grant studying the radicalization of individuals with military experience.
Zimmerman's work is giving her a front-row seat to the importance of counterterrorism research. She has seen people flagged in government systems for suspicious behavior, which raises "red flags for me" that it might take an outsider's perspective to help.
After their first foundational year, the students will travel in the summer to embed with an operational unit or DHS customer to gain field understanding. These fellows will have exposure to HSE customers and their problems and challenges. As a result, they'll gain domain expertise and combine this with technical skills to derive new solutions. Each fellow will create a new IT innovation for the HSE domain to graduate.