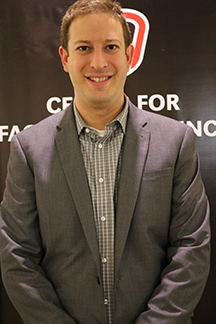 Dr. George Grispos
Assistant Professor of Cybersecurity
School of Interdisciplinary Informatics, Assistant Professor
---
email:
office:
PKI  282F
office phone:
personal website:
note:
This profile is pulling in data from Digital Measures. Postings on personal websites or social media do not indicate that the individual is speaking on behalf of UNO.
General Information
Biography
Dr. George Grispos is an Assistant Professor of Cybersecurity at University of Nebraska at Omaha (UNO) in the School of Interdisciplinary Informatics, College of Information Science and Technology. Dr. Grispos received his PhD in Computing Science from the University of Glasgow, Scotland. His doctoral research focused on evaluating and enhancing the quality of data used by security incident response teams, with the aim of developing better lessons learned from security investigations. Prior to joining UNO, Dr. Grispos worked at Lero – The Irish Software Centre in Limerick, Ireland as a Post-Doctorial Researcher. At Lero, his research focused on engineering forensic-ready software systems. Dr. Grispos has also completed a MSc. in Computer Forensics and E-Discovery from the University of Glasgow, and a BSc. (Hons.) in Computer Networks from Middlesex University, England. Dr. Grispos' current research interests span the domains of digital forensics and security processes. Current active projects include developing tools and techniques for forensically analyzing biomedical devices, as well as developing digital forensic education initiatives. Dr. Grispos has experience in conducting research with several Fortune 500 Organizations in the financial services and manufacturing sectors, as well as law enforcement agencies.
Teaching Interests
I am interested in teaching classes related to digital forensics and cyber investigations. At UNO, I teach both undergraduate and graduate classes within these topics, including mobile phone forensics. I also teach a class on Foundations of Cybersecurity.
Research Interests
Digital Forensics, Security Incident Response, Information Assurance, and Applied Computer Science
Service Summary
Dr. Grispos currently serves on the Editorial Board for Digital Investigation, an international journal that focuses on digital forensics and incident response research. In addition, Dr. Grispos has also chaired tracks related to security and privacy in healthcare at the Hawaii International Conference on System Sciences, as well has been a member of program committees for conferences and workshops such as TrustCom, WSDF, and SERF.
Scholarship/Research/Creative Activity
Selected Publications
Grispos, George, Glisson, William, Storer, Tim. 2013. Using Smartphones as a Proxy for Forensic Evidence Contained in Cloud Storage Services, IEEE.
Service
Department, College, and University
CodeCrush, Faculty Mentor, Introduction to forensic science and digital forensics to CodeCrush students, 03/09/2018 - present
Professional
Digital Investigation, Editorial Review Board Member, Review and assist in the decision-making process of manuscripts submitted to the journal, 11/01/2016 - 11/30/2016
Media Contributions
TV, KMTV Online - UNO professor warns about using dating apps, UNO professor warns about using dating apps - https://www.3newsnow.com/news/local-news/uno-professor-warns-about-using-dating-apps, 10/02/2017