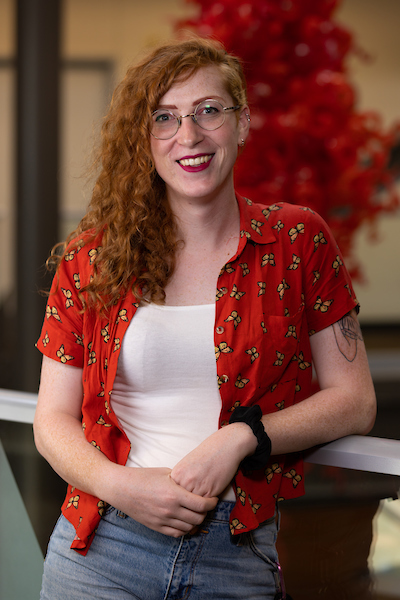 Ada-Rhodes Short, Ph.D.
She/her
Assistant Professor
School of Interdisciplinary Informatics
---
email:
office:
PKI  175C
office phone:
office hours:
Monday 3-4pm , Wednesday 10-11am
personal website:
note:
This profile is pulling in data from Digital Measures. Postings on personal websites or social media do not indicate that the individual is speaking on behalf of UNO.
General Information
Biography
Dr. Ada-Rhodes Short has a Ph.D. in mechanical engineering from Oregon State University where her research focussed on design, automation, and decision-making. Dr. Short has nearly a decade of experience in cutting-edge robotics and artificial intelligence work for both private companies and major research universities.She is currently working on problems related to design decisions and computational cognition for autonomous mobile robots.Her career highlights include winning multiple CES design innovation awards in the robotics product category, working on autonomous behavior for space robots, designing the home robot Misty, helping to make Star Wars' BB-8 a reality, and helping to cultivate the next generation of design engineers.More information on Dr. Short's career can be found at https://en.wikipedia.org/wiki/Ada-Rhodes_Short and you can find a complete list of her patents and publications on her Google Scholar page.
Teaching Interests
Robotics, automation, decision making, and design
Research Interests
Computational Cognition, Robotics, and Design Decision Making
Service Summary
Dr. Short is the Co-Chair of the ASME DED Broadening Participation Committee
Awards and Honors
TOP PAPER AWARD, Scholarship/Research - 2015
CES DESIGN INNOVATION AWARD IN ROBOTICS AND DRONES CATEGORY - 2019
OUTSTANDING GRADUATE RESEARCH, Scholarship/Research - 2016
LIFETIME ACHIEVEMENT IN LGBTQ ADVOCACY AWARD, Service, Community - 2014
SOROPTIMISTS INTERNATIONAL RUBY AWARD FOR WOMEN HELPING WOMEN RESEARCH, Service, Community - 2019
PHM SOCIETY DOCTORAL SYMPOSIUM SELECTION, Scholarship/Research - 2015
MECHANICAL ENGINEERING DEPARTMENTAL HONOREE FINALIST, Scholarship/Research - 2015
CONFERENCE ON EARTH ENERGY & RESEARCH, GRADUATE POSTER PRESENTATION RUNNER UP, Scholarship/Research - 2015
UNIVERSITY OF DENVER ANALYTIC CHALLENGE RUNNER UP, Scholarship/Research - 2015