No Limits! Student Research & Creativity Conference
Click here to pre-register!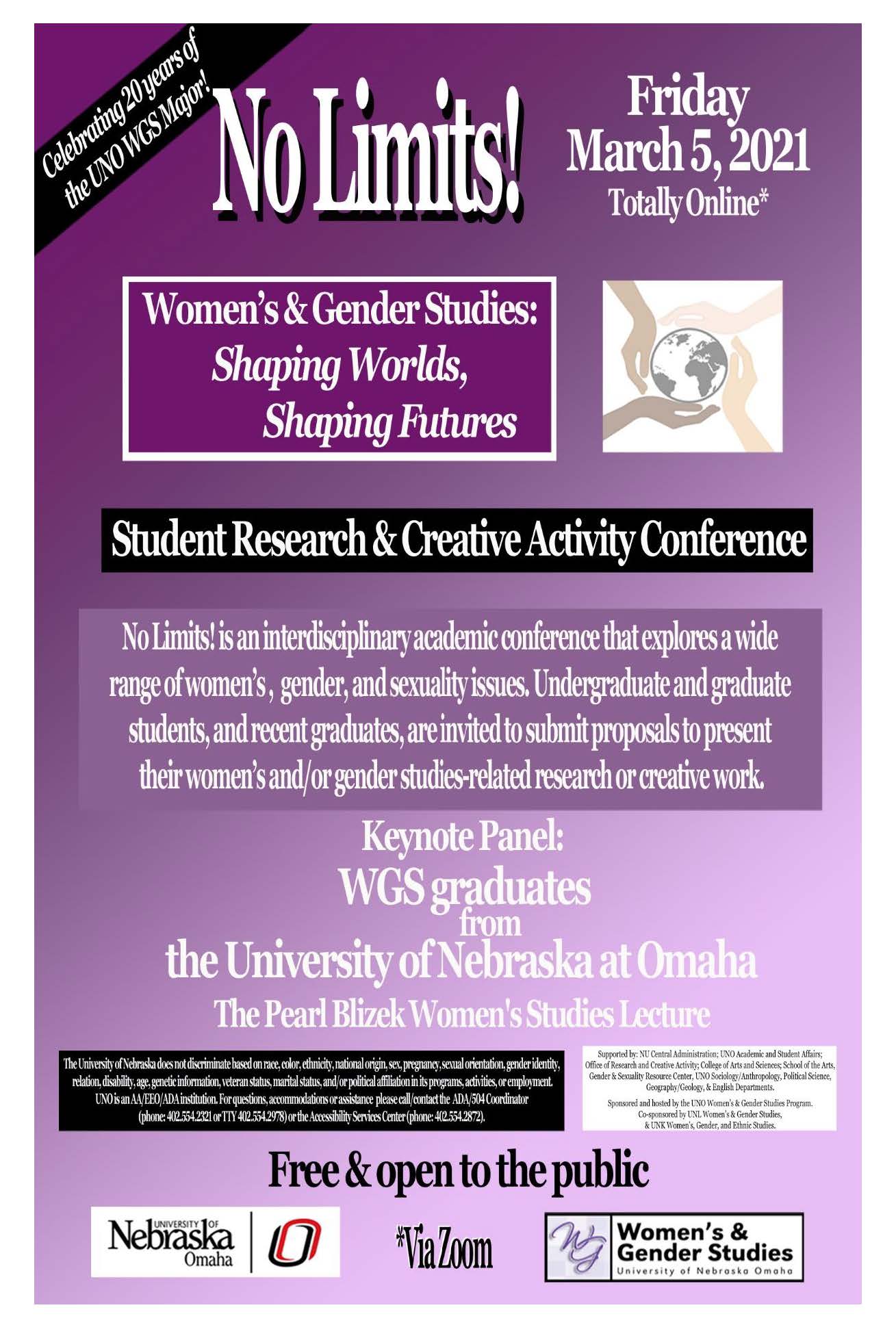 No Limits! is an interdisciplinary academic conference that explores a wide range of women's, gender, and sexuality issues.
Undergraduate and graduate students, as well as recent graduates, present their research or creative work related to women's and/or gender studies.
This conference will be hosted online via Zoom.
Schedule:
8:30 AM: Welcome and introduction
9:00–10:15 AM: Concurrent Sessions 1-3
10:30–11:45 AM: Concurrent Sessions 4-6
12:00–1:10 PM: Keynote session featuring a panel of Women's and Gender Studies grads
1:30–2:45 PM: Concurrent Sessions 7-9
3:00-4:15 PM: Concurrent Sessions 10-12
4:30 PM: Closing
This event is sponsored and hosted by the UNO Women's & Gender Studies Program; co-sponsored by UNL Women's & Gender Studies and UNK Women's, Gender, and Ethnic Studies; and supported by NU Central Administration, UNO Academic and Student Affairs, Office of Research and Creative Activity, College of Arts and Sciences, School of the Arts, Gender & Sexuality Resource Center, and the UNO Departments of Sociology/Anthropology, Political Science, Geography/Geology, and English.
If you have questions, contact: Karen Falconer Al-Hindi, Ph.D., at kfalconeralhindi@unomaha.edu
The event is free and open to the public.