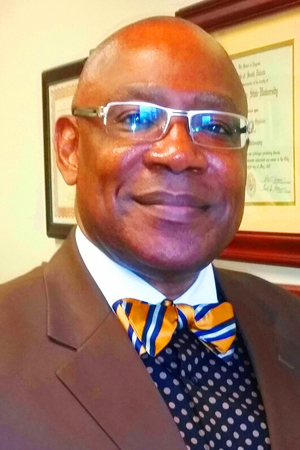 Dr. Olu Oyinlade
Professor of Sociology
402.554.3371
---
email:
office:
area of focus:
Industrial/organizational Sociology, Applied (Social) Demography, Race Relations
Additional Information
---
Profile
Professor Oyinlade is primarily an Industrial/Organizational Sociologist. His formal graduate education included training in Formal (i.e. Complex) Organizations, Industrial Management and Applied (Social) Demography with a special focus on Type II Population Studies. In addition, he is a Race-Ethnic Relations Scholar. His current teaching schedule includes Social Organizations, Formal (Complex) Organizations, Social Diversity in Organizations, and Introduction to Sociology. His prior employments included academic positions at both private and public universities in Massachusetts, South Dakota and Nebraska.
As an Industrial/Organizational Sociologist, Professor Oyinlade's expertise is in Organization Development with a special focus on organizational performance improvement through organizational systems analysis and organizational structural change. With his expertise, Dr. Oyinlade is available to consult on structural analysis and solutions to organizational problems such as low productivity, employee motivation, job satisfaction, employee turnover, organizational commitment, change management, customer satisfaction and leadership effectiveness assessment. He is also available to consult on program evaluation.
As a race-ethnic relations scholar, Dr. Oyinlade's consulting skills are mainly in diversity management in organizations. He is well skilled in developing organizational diversity plans for specific organizational diversity needs. He is also skilled in solving many diversity related problems, such as conflict, oppressive behaviors, avoidance, turnover, segregation and alienation. He is available to conduct productive diversity seminars, lectures, workshops and executive coaching on both diversity issues and performance improvement management.
Professor Oyinlade's research spans over various areas of organization development, leadership, organizational diversity and the impact of migration on employment and economic characteristics. He has presented his research at local, regional, national and international professional conferences, and his research has been published in many scientific journals. He is the creator and author of a standards-based method of assessing leadership effectiveness known as the "Essential Behavioral Leadership Qualities" [EBLQ] method. He is also a co-author of an introduction to sociology textbook; "Basic Sociology: A Comprehensive Introduction", published by BVT Publishing.
Professor Oyinlade has held a few university and professional leadership positions including serving as the director of the university honor program for Northern State University, Aberdeen, SD, between 1992 and 1993. He has served as a national councilman and chapter representative for Alpha Kappa Delta-the sociology honor society, he has been elected to serve two terms representing two different states on the board of the Midwest Sociological Society (MSS), he has served as the chair of the Minority Scholars Committee for the (MSS) and he has served as Vice President, President and Past President of the Great Plains Sociological Association. In 2009, the Marquis Who's Who Publication Board entered Professor Oyinlade's biographical record into "Who's Who in America."