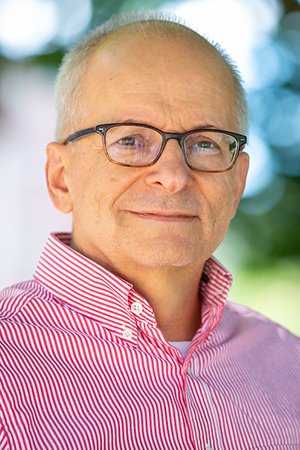 Rory Conces, PhD
Associate Professor
402.554.2628
---
Additional Information
Background
Rory J. Conces  is Associate Professor of Philosophy and a member of the Religious Studies, International Studies, and Islamic Studies faculties. He received his B.A. in psychology and philosophy from Creighton University (1976), M.A. in philosophy from DePaul University (1980), and Ph.D. in philosophy from the University of Missouri-Columbia (1991).
He is the founding editor-in-chief of ID: International Dialogue, A Multi-Disciplinary Journal of World Affairs.
Although Conces works broadly in philosophy and has published articles in ethics, political philosophy, the philosophy of science, aesthetics, and the teaching of critical reasoning, much of his work crosses disciplinary boundaries. For some time his research interests have lied at the intersection of philosophy, political science, psychology, and the visual arts and urban design. He works primarily on questions about the nature of conflict in general; the nature of ethnonationalist conflict in particular; and the array of epistemological, ethical, and psychological issues that comprise peacebuilding, particularly as it pertains to the Balkans.
His more notable publications include a monograph on conflict resolution and applied philosophy entitled Blurred Visions: Philosophy, Science, and Ideology in a Troubled World(1997),  "Epistemical and Ethical Troubles in Achieving Reconciliation, and then Beyond " (European Journal of Analytic Philosophy 2009), "Rethinking Realism (or Whatever) and the War on Terrorism in a Place Like the Balkans" (Theoria 2009), and "The Role of the Hyperintellectual in Civil Society Building and Democratization in the Balkans" (Studies in East European Thought 2007). Some of the other journals in which he has been published include Dijalog,Acta Analytica, Kakanien Revisited, The Locke Newsletter, International Third World Studies Journal and Review, Journal of Philosophy and Social Science, APA Newsletter on Teaching Philosophy, Southwest Philosophy Review, and Sociological Analysis. He is also a contributor to Bosnia Daily, an electronic newspaper in Sarajevo. Conces' work has been translated into Albanian, Bosnian, and German.
He is currently working on an article that furthers his study of the hyperintellectual, as well as an article that highlights the importance of evocative objects and enclaves to deliberative democracy.
During the past thirteen years, Conces has lectured in China at South China Normal University, Zhongshan University, and Hangzhou Teachers College; in Bosnia and Herzegovina at the University of Sarajevo, the University Dzemal Bijedic of Mostar, and the University of Tuzla; in Croatia at the University of Rijeka; in Kosovo at the University of Prishtina, the University of Priština (Kosovska Mitrovica), and at the Academic Training Association Mitrovica Summer School; in Northern Ireland at Queen's University of Belfast; in Austria at The European Training and Research Centre for Human Rights and Democracy in Graz; in England at University College; in Denmark at Aarhus University, and in Sweden at Malmö University.
He was a Fulbright Scholar in the Department of Philosophy and Sociology at the University of Sarajevo in 2001 and in the Department of Political Science at the University of Prishtina in 2008.
Conces has taught courses in the areas of ethical theory, environmental ethics,  social and political philosophy, logic and critical reasoning, history of twentieth century American philosophy, philosophy of history, and religion and conflict.
He serves on the editorial/advisory boards of The International Journal of Balkan Policy Research and the Balkan Policy Institute in Kosovo.
He enjoys long early morning jogs in urban settings, "trolling" through bookstores and galleries, cooking for others, eating, a good soccer match, spending time with his sons and siblings, and living part of the year in Europe. In addition, Conces spends an inordinate amount of time thinking about the interface of theory and practice, and how this figures into disagreements and violent conflicts.