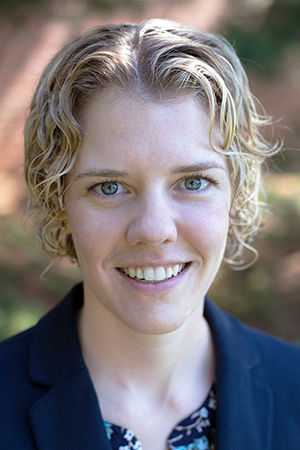 Laura Alexander, PhD
Executive Director, Goldstein Center for Human Rights
Associate Professor
402.554.2628
---
Additional Information
Background
Dr. Laura Alexander is an Associate Professor of Religious Studies, with a specialty in Religion and Human Rights. She is the first recipient of the Goldstein Family Community Chair in Human Rights at the University of Nebraska at Omaha. Dr. Alexander received her Ph.D. in Religious Ethics from the University of Virginia and her M.Div. and B.A. degrees from the University of Chicago. Prior to earning her graduate degrees, she participated in two year-long service programs, teaching English in a small community in Thailand and working in refugee services in Minneapolis.

In addition to religion and human rights, her areas of research and teaching include comparative religious ethics, religion and immigration, and religious thinking about just war and national sovereignty, especially the idea of Responsibility to Protect.

In research and academic service, Dr. Alexander is co-editor of The Meaning of My Neighbor's Faith: Interreligious Reflections on Immigration (Lexington, 2018). Recent articles include:
"Christian Realism and the State as Idol: Feminist and Postcolonial Critique and Christian Realist Theology in an Interdependent World," Political Theology, 2020
"The New Politics of Religious Freedom: Humanitarian Aid and Sanctuary as Religious Mandates," Journal of Religion and Society, 2020
"(The Image of) God in All of Us: Sikh and Christian Hospitality in Light of the Global Refugee Crisis," Journal of Religious Ethics, 2019
Other articles and chapters have addressed treatment of immigrants in the United States in light of the Geneva Conventions; Christian and Muslim liberation theologies and human rights; and Jewish thought about sovereignty and war. Dr. Alexander also serves as co-chair of the Religion and Human Rights Program Unit at the American Academy of Religion Annual Meeting, and previously co-chaired a seminar on religious thought about immigration.

In university teaching, Dr. Alexander's courses include "Religion and Human Rights"; "War, Religion, and Human Rights"; and "Public Health, Religion, and Human Rights," as well as introductory courses in world religions and religious ethics. Several of her courses include service-learning components, and she also has experience teaching bioethics and business ethics. She has a particular interest in student advising and student development, having previously worked as an academic and career advisor. All of her courses seek to help students gain – and articulate – skills and knowledge for fulfilling careers and engaged citizenship in their communities.

In community service, Dr. Alexander works to bring together university and community members in human rights education and events. As Community Chair, she is the organizer of Human Rights Week at UNO; the Human Rights Forum under the auspices of the Goldstein Center for Human Rights; and an essay contest in human rights. The Community Chair also sponsors or co-sponsors multiple events related to current social issues and human rights. Recent events have addressed practices of anti-racism through a human rights lens, as well as indigenous religious practices and land and food sovereignty.