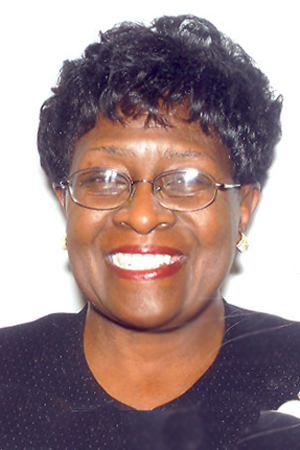 Additional Information
Background
Dr. Gloria J. Epps is an active member of Zion Baptist Church in Omaha, Nebraska. She has, since a child had, an internal drive towards education in general and a passion for Christian Education in particular. Educated in Omaha, she graduated in 1965 from Omaha Central High School and then from the University of Nebraska at Omaha with a Bachelor of Arts in German in 1978. While serving the Omaha Public Schools, she completed in 1983 her Masters Degree in English, which added another teaching field. During the 31 1/2 years of service to the Omaha Public Schools, Dr. Epps has taught German, English, Radio Broadcasting and Speech. She has recently earned a Bachelor of Science in Interdisciplinary Studies with a focus on Religion at the University of Nebraska at Omaha and has graduated with a Master of Divinity and Doctor of Ministry in Biblical Studies from Apex School of Theology in Durham, North Carolina.
Professionally Dr. Epps has had the opportunity to write curriculum for the Omaha Public Schools in the areas of Non-Sexist Education, English and German as well as one of the first grants for KIOS-FM, the Radio Station of the Omaha Public Schools. She chaired the Curriculum Selection Committee for German Textbook Selection and then continued by leading the teachers to develop Outcome Based Tests for all five levels of German. Dr. Epps' concern for the global development of young people, especially urban young people, helped to motivate her to begin coordinating overseas travel for her German students. From 1988 to 2000, she led predominately low-income students in unforgettable trips to Germany, Austria, Switzerland and Italy.
The same concern that Dr. Epps has shared for young people and for community issues can be seen in her commitment to personal involvement with the community. She serves on several board and committees in the community that impact the education of Omaha youngsters including the Omaha School of Music where she serves as the Chairperson. Dr. Epps has studied with the National Baptist Congress since a teenager and as a result of that training, as well as that provided by her local church and state congresses, she now serves as the Director of Christian Education for Zion Baptist Church, teacher of Old Testament for Zion, a writer for the Sunday School Publishing Board, former Vice-Chairman of the National Christian Education Committee, Director for the Sunday School Publishing Board December Conference and instructor for the National Baptist Congress of Christian Education for over 20 years. She is further fortunate to serve on the Sunday School Publishing Board Corporate Board. She has been honored to serve two terms as Dean for the New Era Baptist State Congress of Christian Education as well as other offices. Formerly the Secretary of the New Era Baptist State Convention of Nebraska and as the State Director of Christian Education. She gladly accepts opportunities for her to teach in Omaha, nationally, and as a part of the team of teachers who travel to Germany each summer to the National Baptist Association of Germany, to Kenya with Dr. Geoffrey Guns and his Kenya Missionary Travel, and for the Congress of Christian Education. She is for the eighth year in 2016 a part of the team traveling with the University of Nebraska at Omaha to Bethsaida Excavations in Israel. This fall Dr. Epps serves as an Adjunct Professor for the Religious Studies Department at the University of Nebraska at Omaha.
As a prolific denominational writer, Dr. Epps has written curriculum for classes locally and abroad as well as articles for the Sunday School Publishing Board's Christian Education Informer.
When Dr. Epps is not working, she enjoys traveling, reading, attending classical music concerts, and singing. She has two children, La Donna and Thomas and 9 grandchildren and 2 Great-grandchildren.