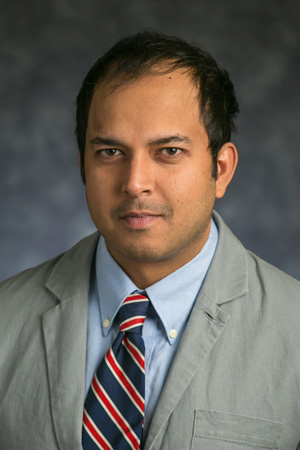 Bharat Ranganathan, PhD
Assistant Professor of Religious Studies
Brooks Professor of Social Justice and Religion
---
Additional Information
Background
Bharat Ranganathan is Assistant Professor of Religious Studies and the inaugural Brooks Professor of Social Justice and Religion. His research and teaching interests focus on how religious ethics and moral and political philosophy bear on problems in bioethics and medical humanities in both clinical and public health contexts. He also has substantive interests in the philosophy of religion, methods and theories in the study of religion, and theology.
Bharat's articles have appeared in journals including the Journal of Religious Ethics, Soundings, Studies in Christian Ethics, and Religions. With Derek Woodard-Lehman (Pittsburgh Theological Seminary), Bharat co-edited and contributed to Scripture, Tradition, and Reason in Christian Ethics: Normative Dimensions (Palgrave Macmillan, 2019). He is currently completing two books, On Helping One's Neighbor: Religious Ethics, Obligations to Others, and Severe Poverty and (with Jason Heron, Mount Marty University) Catholic Social Teaching, Liberalism, and Justice.
After receiving his PhD in Religious Studies from Indiana University, Bharat has held fellowships from the National Endowment for the Humanities, the Notre Dame Institute for Advanced Study, the de Nicola Center for Ethics and Culture, and the MacLean Center for Clinical Medical Ethics at the University of Chicago.