Neuroscience
"Neuroscience is exciting. Understanding how thoughts work, how connections are made, how the memory works, how we process information, how information is stored - it's all fascinating." - Lisa Randall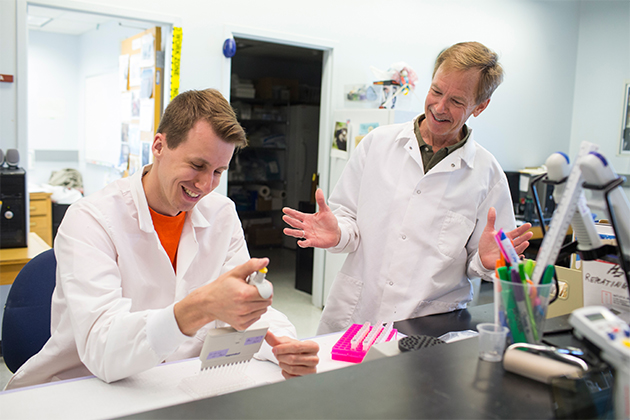 | Academic Options available in Neuroscience | Degree Offered | Advisor |
| --- | --- | --- |
| Bachelor of Science in Neuroscience | BS | Dr. Suzanne Sollars |
Why Study Neuroscience?
Increasing understanding of the brain and improved methods to study it will enable scientists to develop treatments for neurodegenerative diseases (such as Alzheimer's disease) and mental illnesses. Research will also help us find out more about normal human behavior and mental well-being and can help develop artificial intelligence. As well as treating illnesses, research could also lead to a better understanding of how we learn, allowing us to teach and learn more efficiently.
These developments are likely to provide significant benefits for society and have implications for a diverse range of public policy areas such as health, education, law, and security. However, they will also raise major social and ethical issues and raise questions about personality, identity, responsibility, and liberty.
---
What can I do with a degree in Neuroscience?
Students graduating with a neuroscience major from UNO will be well prepared for a variety of graduate education programs in neuroscience and related fields, including programs that feature studies in genetics and genomics, molecular and cellular neuroscience, systems neuroscience, or cognitive science. Completion of a Ph.D. in neuroscience would then facilitate a career as a scientist/educator in colleges and universities, government-sponsored institutions, or private industry.
Neuroscience majors will also be highly competitive for admission to medical schools or any other health professions school, such as dental school or schools that prepare physical therapists or physician assistants.
Given the broad impact of neuroscience, UNO neuroscience majors will be increasingly sought out by leaders in law, business, social sciences, arts, and humanities for collaboration where knowledge of the brain sciences addresses public policy, professional practice, and a broad understanding of human behavior.
---
Tracks in Neuroscience
Students who major in neuroscience can follow one of two tracks in the field through the selection of advanced elective courses that are relevant to their goals and interests. Note that tracks are not formal academic programs - they are a group of courses that you can take based on interests that still lead to a BS in Neuroscience.
The two tracks are:
Molecular & Cellular Neuroscience
This concentration is an examination of the function of individual neurons their morphology, molecular biology, physiology, and interactions with neighboring neurons and circuits. Or in other words, "From Cells to Brains."
Integrative Behavioral Neuroscience
This concentration is an examination of how behavioral, psychological, and cognitive processes result from the activity of neural circuits. Or in other words, "From Brains to Behavior."