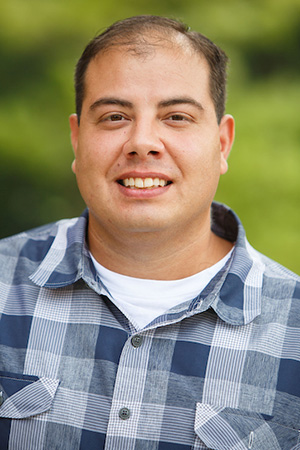 Brady DeSanti, PhD
Lac Courte Oreilles Ojibwe
Director of Native American Studies
Associate Professor of Religious Studies
402.554.2956
---
email:
office:
ASH  205B
office phone:
area of focus:
Native American and Religious Studies
note:
This profile is pulling in data from Digital Measures. Postings on personal websites or social media do not indicate that the individual is speaking on behalf of UNO.
General Information
---
Biography
Dr. Brady DeSanti is Associate Professor of Religious Studies and Native American Studies at the University of Nebraska at Omaha. He is the current Director of the Native American Studies Program. He is an alumnus of UNO and received his Ph.D. in American History from the University of Kansas. He is an enrolled member of the Lac Courte Oreilles Ojibwe Nation. His research focuses on Native American history and religious traditions.
Teaching Interests
Dr. DeSanti teaches classes for the Religious Studies department and Native American Studies program. His class offerings includes the following courses: Native American Religions, Shamanism Dreaming and the Origins of Religion, Holy Terror: Religion and Horror, Religion and Comic Books, Introduction to Native American Studies, and Introduction to World Religions.
Research Interests
Dr. DeSanti's research interests include Native American religious traditions and religion and popular culture. He also examines Native American history and the relationships between Native American peoples and anthropologists and historians. His research touches upon many topics within Native American Studies.
Service Summary
Along with serving as the Director of the Native American Studies program, Dr. DeSanti is a member of the Executive Council for Native Studies. He is also a member of the Faculty Senate, a member of the UNO Human Rights Committee, Goldstein Lecture Committee, and Brooks Lecture Committee in Religious Studies. He is also a member of the Faculty Committee on Diversity and Inclusiveness. This committee was formed at the request of Senior Vice Chancellor Sacha Kopp.