Before You Arrive
Make sure all your guests have their instructions
Know your route to Baxter Arena and where to park
Graduates must arrive 30 minutes before your ceremony time
If graduates do not arrive 30 minutes before the ceremony, they will not be lined up in the correct order
Do not bring any personal items into the arena (purses, backpacks, coats, etc.)
Please give these items to your family/guest to hold during the ceremony.
---
Attire
Students are required to wear the UNO cap and gown.
Business attire beneath the gown is recommended.
Underneath the arena floor is a layer of ice, so it can be chilly. Please dress accordingly.
Bachelor's degree candidates: Wear the tassel over the right front of the cap.
Graduate and doctoral degree candidates: Wear the tassel over the left front of the cap.
---
When You Arrive at Baxter Arena
Graduates will be directed to the check-in tables upon their entry. These are located inside the Holland Ice. Further instructions will be given to you after your check-in.
As a reminder, graduates should not bring any personal items (jackets, bags, purses, etc.) into the arena.
Graduates need to write their name phonetically (spell it the way it sounds) on their name cards. The name cards will be given to graduates at check-in and tables will be available with helpers to write names phonetically.
Graduates are required to sit in their assigned seats. Students will be lined up by college, then by major/program, and then by last name.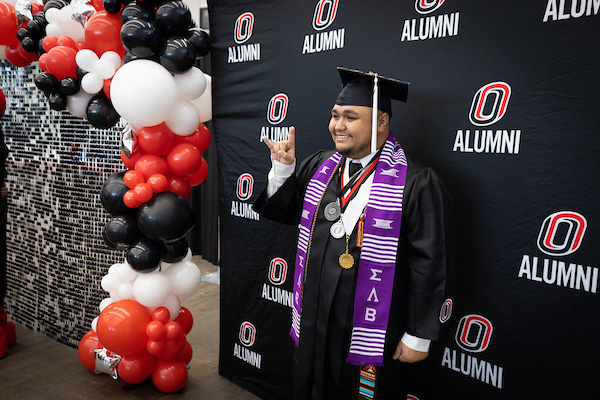 ---
During the Ceremony
Please shut off cell phones and refrain from use during the ceremony.
When directed by ushers, line up, grab your diploma cover, present your name card to the reader, and cross the stage.
After graduates take their photos backstage, ushers will direct graduates back to their seats.
As a courtesy to all graduates and their guests, you are expected to remain for the entire ceremony. Please ask your guests to meet you outside the arena after the ceremony.
Photo proofs will be emailed to graduates after the ceremony.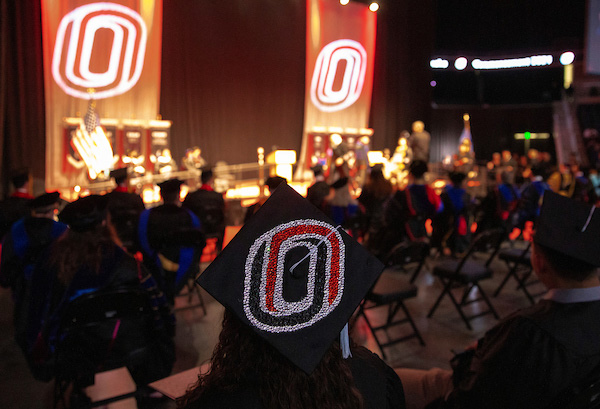 ---
After Commencement
Due to the quick turnover between ceremonies, we ask the graduates and their families and friends to go to our Scott and Dodge Campuses, where we have numerous photo opportunities available.
Order your photos through GradImages.
Connect with the UNO Alumni Association
Check out the Résumés, Career Readiness, and Interview Resources available through the Academic and Career Development Center (ACDC).
Ensure you get your diploma; these are mailed out approximately 15-20 business days after commencement. If you have questions or concerns about your diploma, please contact the Office of the Registrar at unoregistrar@unomaha.edu or 402.554.2314.
Undergrad students, look into attending Grad School at UNO.