ISSUED: (Friday, March 13, 2020 17:00 PM)
CAMPUS ANNOUNCEMENT
UNO campus remains open; classes moving to remote learning mode March 30.
More Information
CLOSE

X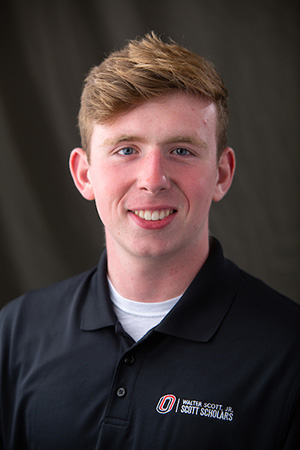 Ryan Chapman
Scott Scholar
UNO, Information Science & Technology
---
Additional Information
---
Bio
Ryan is from Omaha, NE studying Bioinformatics and Computer Science. His leadership experience includes instituting a student ambassador program for the Scott Scholarship to help spur greater student interest across high schools in Nebraska as well as serving on the Scott Scholar Leadership Council. He is working to design a web-based application for the Open Door Mission that aims to help improve the access clients of the organization have to appointments and other resources. He also volunteers weekly at the VA hospital and helps to coordinate volunteer opportunities within his Scott Scholar class. Ryan's internship experience includes working at Blue Cross Blue Shield where he utilized C# to design applications to aid SQL developers across the company as well as demonstrating the power of Microsoft's cloud service, Azure, in storing, manipulating, and retrieving data more efficiently. He is also involved in undergraduate research under Dr. Paul Davis in the department of Biology at UNO. His research focuses on identifying the cellular targets of drugs utilizing single-cell transcriptomics as well as learning various genetic experimental techniques. Ryan's career interests include developing technology to aid genetic/biomedical research or becoming a physician specializing in diagnostic medicine where he can help create a basis for patient treatment or general practice where he can create relationships of trust and respect with his patients. Ryan is a recipient of a FUSE grant for his research and is an Eagle Scout.